Genres
Controls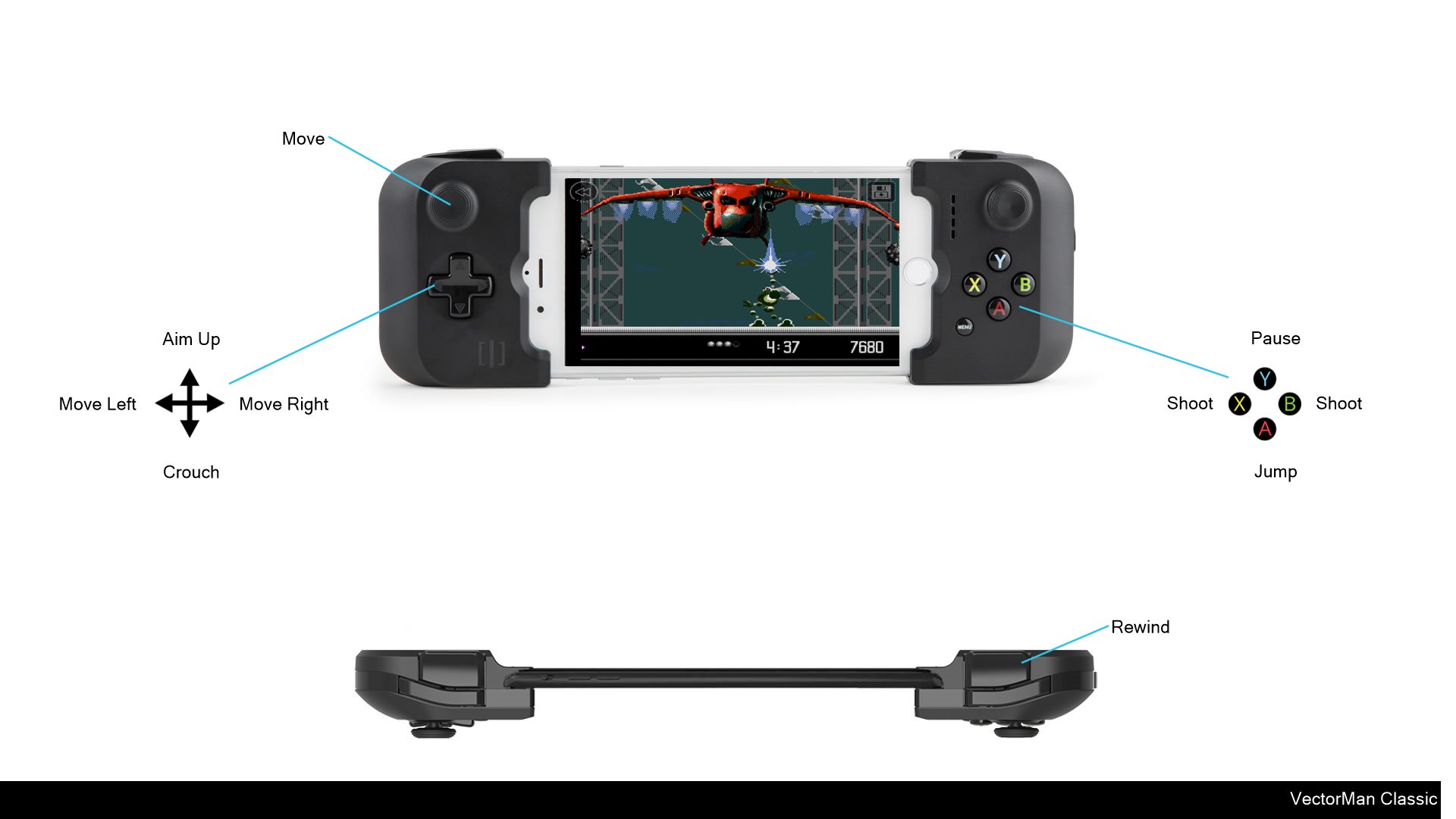 Earth 2049 – a toxic hellhole ruled by robots! Only you, VectorMan, can save the last remaining humans from extermination by the evil dictator Warhead. Now available on mobile, play free and rediscover SEGA's ground-breaking pre-rendered stunner!
Brawl, blast, morph and bomb your way through 16 lethal levels of mechanized mayhem. Collect devastating power-ups and morph your body into killer weaponry to end the robots' toxic reign!
FEATURES
- 16 toxic levels of run 'n' gun insanity! Combat waves of mechanized monsters in hellish future-world.
- Transform VectorMan into a drill, a bomb, or a mechanized fish to bring the robot tyranny to an end!
- The better you are, the more power-ups you'll earn to give you the edge over a host of insane enemies.
MOBILE GAME FEATURES
- PLAY FREE with ad-support or ad-free via In-App Purchase
- SAVE YOUR GAMES – save your progress at any point in the game
- LEADERBOARDS – compete with the world for high scores
- REWIND GAMEPLAY – go back in time to beat some of SEGA's hardest challenges
- HAPTIC SUPPORT: get into the game with responsive button presses
- CONTROLLER SUPPORT: MFi compatible controllers
RETRO REVIEWS
"Absolutely great. One of the best releases of the year."[96%] - CVG (November 1995)
"I guarantee your jaw will drop in amazement."[90%] - SEGA Pro (December 1995)
VectorMan TRIVIA
- The word 'Orbot' means a robot who's body is entirely composed of orbs.
- When someone completed the game, the game cartridge would light up with a special telephone number for people to dial to see if they were the first to complete it!
- When originally released, the first person to complete the game won $25,000 and a role in a SEGA advert for their efforts!
- Although VectorMan got a sequel, a third game was originally planned and would have seen our hero redesigned from top to toe!
VectorMan HISTORY
- The game was originally released in 1995
- Developed by: SEGA
- Designers: Rich Karpp & Mark Lorenzen
- Composer: Jon Holland
- - - - -
Privacy Policy: http://www.sega.com/mprivacy/
Terms of Use: http://www.sega.com/Mobile_EULA
Game apps are ad-supported and no in-app purchases are required to progress; ad-free play option available with in-app purchase.
This game may include "Interest Based Ads" (please see http://www.sega.com/mprivacy#2e_Third_Party_Info for more information)​ and may collect "Precise Location Data" ​(please see http://www.sega.com/mprivacy#2e_Third_Party_Info ​for more information)​
© SEGA. All rights reserved. SEGA, the SEGA logo, VectorMan, SEGA Forever, and the SEGA Forever logo are registered trademarks or trademarks of SEGA Holdings Co., Ltd. or its affiliates.;