Genres
Controls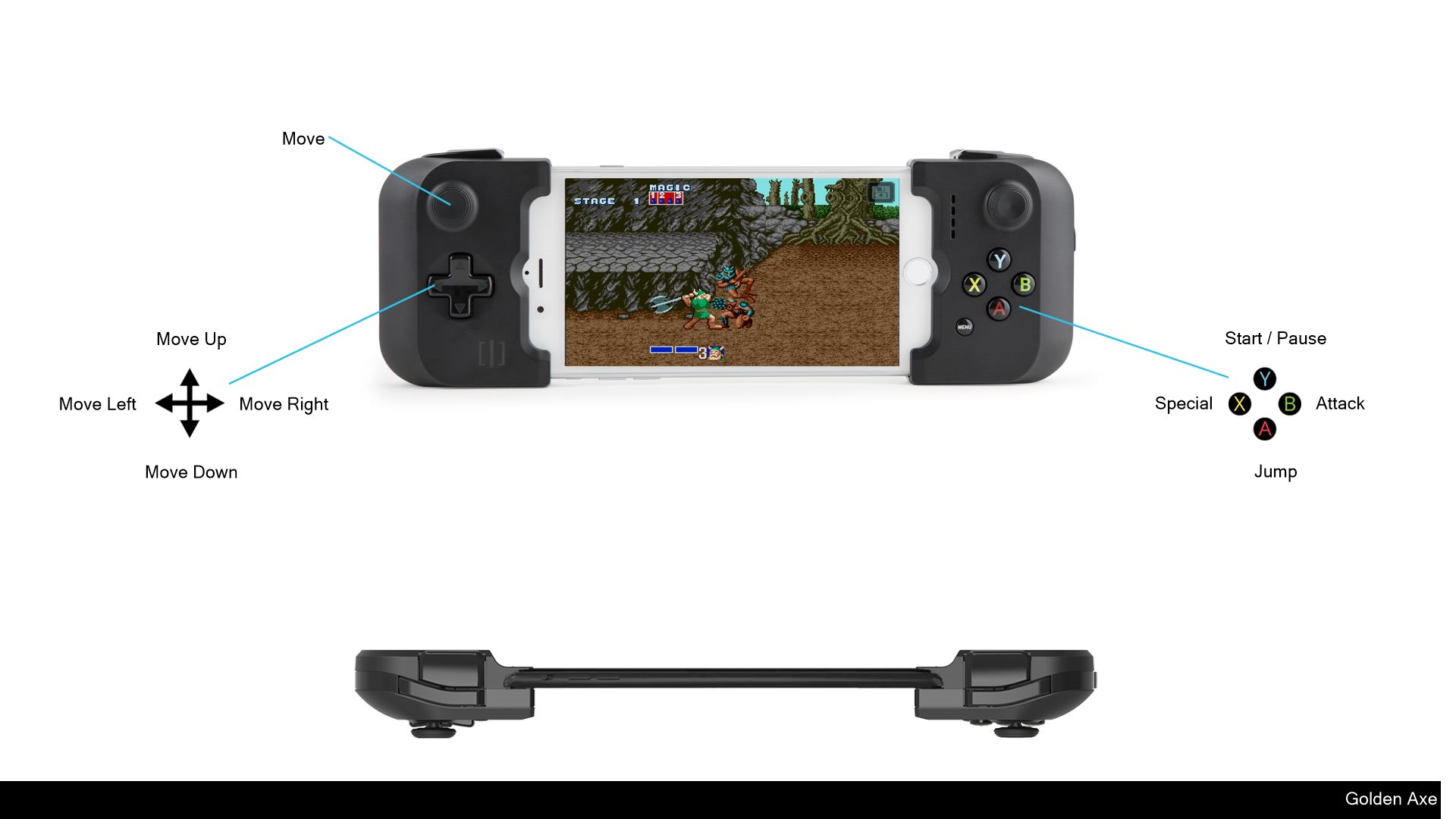 All three 16-bit chapters of SEGA's Golden Axe series hit SEGA Forever in one single app! Get ready to wield your axe, sword, and magic pots as you vanquish all manner of foes across the land of Yuria. Can you best Death Adder, Dark Guld, and Damned Hellstrike in one fell swoop from the palm of your hand?
Golden Axe
It's a spellbinding age of magic, fire-spewing dragons, and skeletons in armor! Fight on the back of a giant turtle! Battle on the wings of an enchanted eagle! Vanquish and ride flame-breathing monsters to victory!"
Golden Axe II
Chop down the forces of evil in this intense sequel to Golden Axe. Battle the dreaded Dark Guild with the Barbarian, the Amazon, and the Dwarf. Use tough new warrior skills and dazzling magic. Kick, hack, and hurl away enemies in the struggle to recapture that legendary symbol of peace, the Golden Axe.
Golden Axe III
Chaos is spreading across the land once again as the Prince of Darkness arises to conquer the world. To stop him and retrieve the legendary Golden Axe, four heroes step forward to accept the challenge.
MOBILE GAME FEATURES
PLAY FREE with ad-support or ad-free via In-App Purchase
SAVE YOUR GAMES – save your progress at any point in the game.
LEADERBOARDS – compete with the world for high scores
HAPTIC SUPPORT – get into the game with responsive button presses
CONTROLLER SUPPORT: MFi compatible controllers
Local Wi-Fi multiplayer support to help you best the bosses!
- - - - -
Privacy Policy: http://www.sega.com/mprivacy
Terms of Use: http://www.sega.com/Mobile_EULA
Game apps are ad-supported and no in-app purchases are required to progress; ad-free play option available with in-app purchase.
This game may include "Interest Based Ads" (please see http://www.sega.com/mprivacy#3IBADiscolure for more information)​ and may collect "Precise Location Data" (please see http://www.sega.com/mprivacy#5LocationDataDisclosure for more information)
© SEGA. All rights reserved. SEGA, the SEGA logo, Golden Axe, SEGA Forever, and the SEGA Forever logo are registered trademarks or trademarks of SEGA Holdings Co., Ltd. or its affiliates.;