Genres
Controls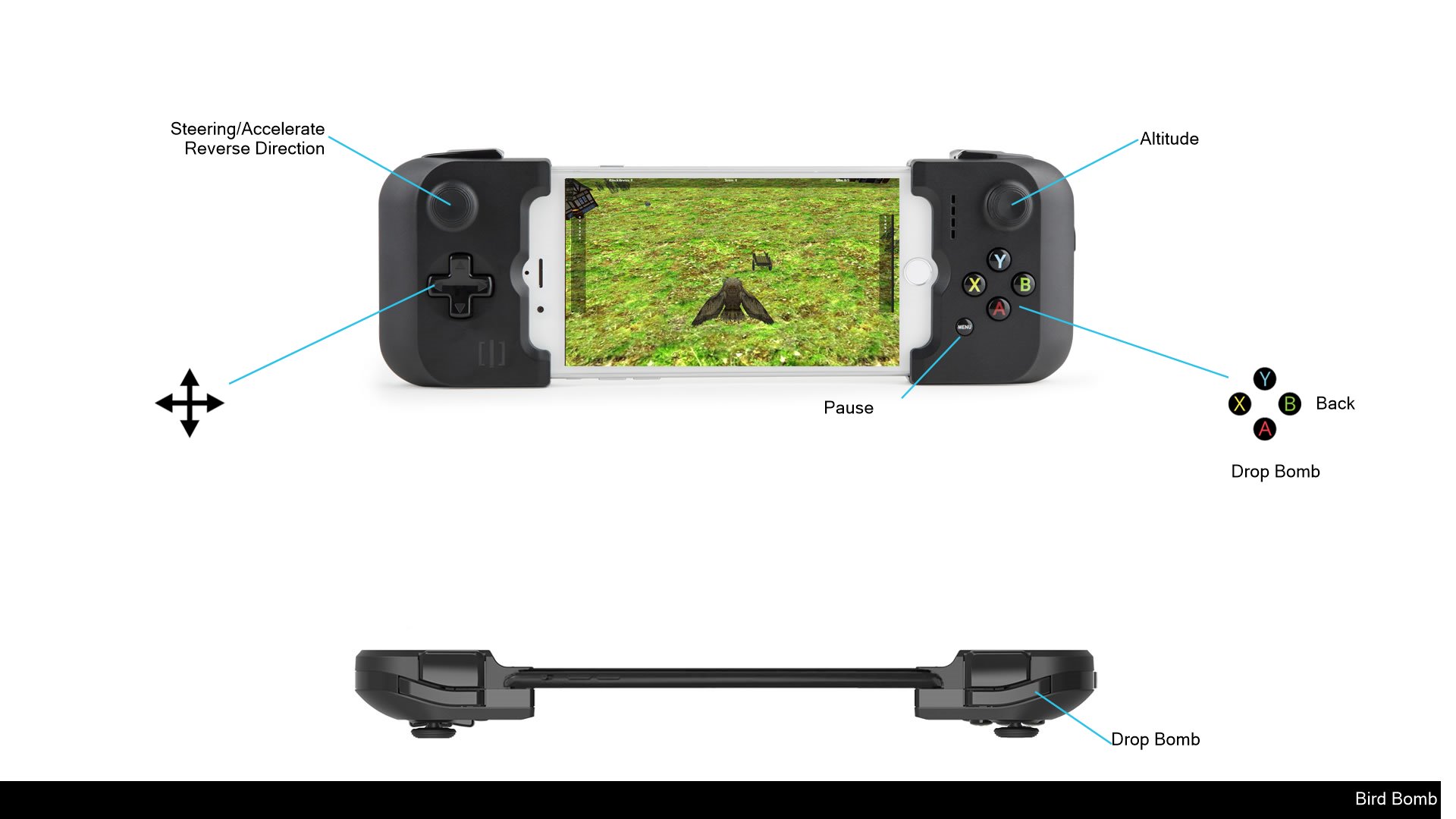 You are Hooteus of the League of Feathers, taking back the planet for bird-kind. Humans have encroached on your habitat for too long, and it's time for payback.
To play, launch 'bombs' of the mysterious a powerful substance from your chest-mounted trepoochet. Hit people repeatedly to knock them down before they can escape into nearby buildings. Your game is over when too many people escape without being knocked down. Watch out for the dog if you get too low, or the helicopter when flying high.
*** Features ***
- Challenging 3D game play that requires skillful aim, timing and anticipation to hit targets successfully.
- Game Center achievements and leaderboards.
- Support for Made for iPhone/iPod/iPad game controllers, such as the MOGA Ace Power or SteelSeries Stratus.
- Intuitive controls that take advantage of the touch screen interface (if not using a game controller).
- Simply slide your finger forward and hold it in place anywhere on the left-side of the screen to accelerate.
- Tap anywhere on the right-side of the screen to fire.
- Touch and hold anywhere on the right-side of the screen to drop quickly.
- Swipe down on the left-side to reverse direction quickly.
- Use of the built-in accelerometer
- Tilt the device up to fly higher, or down to fly lower.
- Tilt the device left or right to steer.
- Use of phone vibrations to give feedback when taking damage.
- Great music and sound effects.
- A hornet companion named Hyde accompanies you, scouting for and leading you to targets via a glowing trail.
- Collect gifts to invoke the 'Bird on Fire' mode to move faster, slow time, and get unlimited ammo for a time.
- On-screen in-game tutorial that gets you started.
Keep the game going as long as you can and get the highest score that you can. You can compete for bragging rights with friends and other players on Game Center, as well as earn achievements for hit streaks and more.
Visit us at http://wurrgames.com/birdbomb/ to see a video, learn more about how to play, and get game play tips.
By downloading, installing or using Bird Bomb you agree to the standard End User License Agreement (EULA) at http://www.apple.com/legal/internet-services/itunes/appstore/dev/stdeula/ and privacy policy at http://wurrgames.com/home/privacy.;