Genres
Controls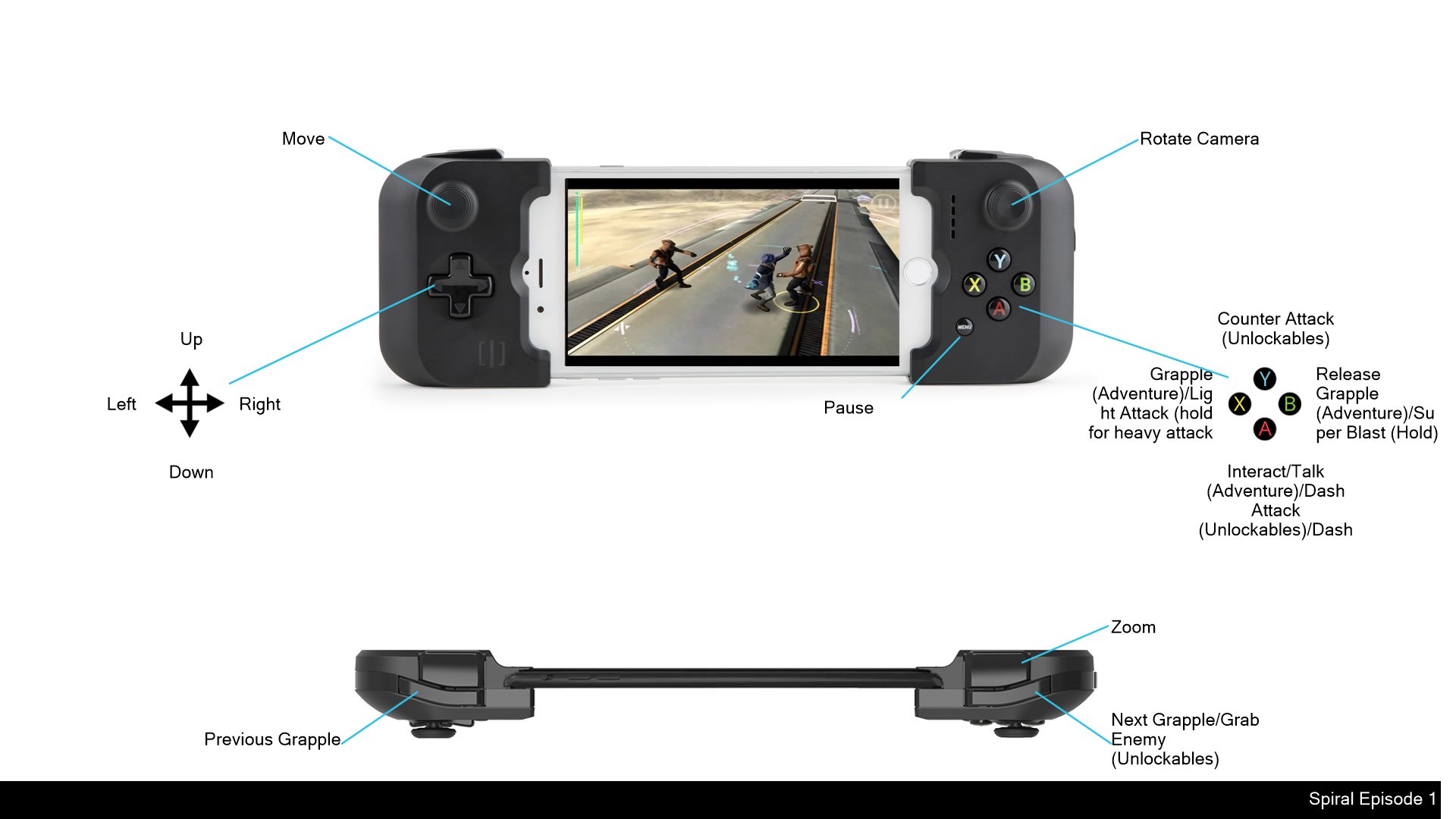 SPIRAL Episode 1 is the first part of a new, unique action adventure game trilogy, that truly brings the full experience of console gaming to iOS, with beautiful 3D graphics, exploration and real time combat… all controlled with a unique 'one touch' gesture system.
IMPORTANT! SPIRAL HAS BEEN DEVELOPED TO RUN ONLY FOR iPhone 4S, iPhone 5, iPhone 5C, iPhone 5S, iPad 2, iPad 3, iPad 4, iPad Air, iPad Mini, iPad Mini 2, and iPod Touch 5th Generation.
To OPTIMIZE your playing experience, you may want to turn off other apps before playing.
Languages supported: English, French, Italian, German and Spanish.
**REACTIONS**
GAMESAKU - 5 out of 5
TOUCH ARCADE - 4.5 out of 5
148 APPS - 4.5 out of 5
APPLENAPPS - 4.5 out of 5
VANDAL - 9 out of 10
HOBBY CONSOLAS - 82 out of 100
APP SPY - 4 out of 5
APP SMILE - 4 out of 5
GAMES IN THE POCKET - 4 out of 5
GAMESAKU - "A Premium Class Game Experience"
TOUCH ARCADE - "Spiral hits all the right notes"
148 APPS - "Spiral is a fantastic game and a breath of fresh air for the genre"
APPLENAPPS - "It's one iOS experience not to be missed"
VANDAL - "Makes us wonder where's the line between console and mobile gaming"
HOBBY CONSOLAS - "Technically speaking it's amongst the best we've ever seen on iOS"
APP SPY - "Generates real momentum with its story, impressive world, and varied gameplay"
APP SMILE - "Featuring a polished presentation and a genuinely interesting storyline"
GAMES IN THE POCKET - "Playing as Tempus is a real pleasure"
**DESCRIPTION**
WELCOME TO THE CITY OF SOLEIL
Enjoy a 5+ hour story as Tempus – an investigator suffering from strange dreams. While trying to figure out the link between the deadly 'Spiral' disease afflicting the population, and the increasing violence and instability occurring around him, Tempus becomes the center of an underground plot that threatens the entire world around him.
RICH 3D GRAPHICS AND EFFECTS
SPIRAL boasts a unique art style, with expressive fully lip-synced characters, rich explorable environments, and console quality visual effects such as bloom and full screen anti-aliasing.
GAMEPLAY DESIGNED FOR YOUR TOUCHSCREEN!
Spiral features gameplay and controls tailored from the ground up for touch screens. Exploring beautiful 3D worlds, interacting with characters or puzzles, and taking part in high octane combat, all done with a simple and intuitive 'one touch' gesture system.
HOURS OF GAMEPLAY IN ARENA MODE
Take part in an engaging story mode, or play in one of four Arena modes. Regardless of which mode you play in, Tempus gains experience to unlock new abilities and weapons.
THE LATEST iOS FEATURES
SPIRAL fully integrates Game Center Achievements, Leaderboards, and Challenges, Social Networking, as well as offering an iCloud save system, HDMI output support and Game Controllers.
For more information on Spiral, please visit www.spiralthegame.com
Developed by Pixel Hero Games
** MORE FROM PIXEL HERO **
WEB: www.pixelherogames.com
TWITTER: @PixelHeroGames
FACEBOOK: www.facebook.com/pixelherogames
YOUTUBE: www.youtube.com/user/pixelherogames;