Genres
Controls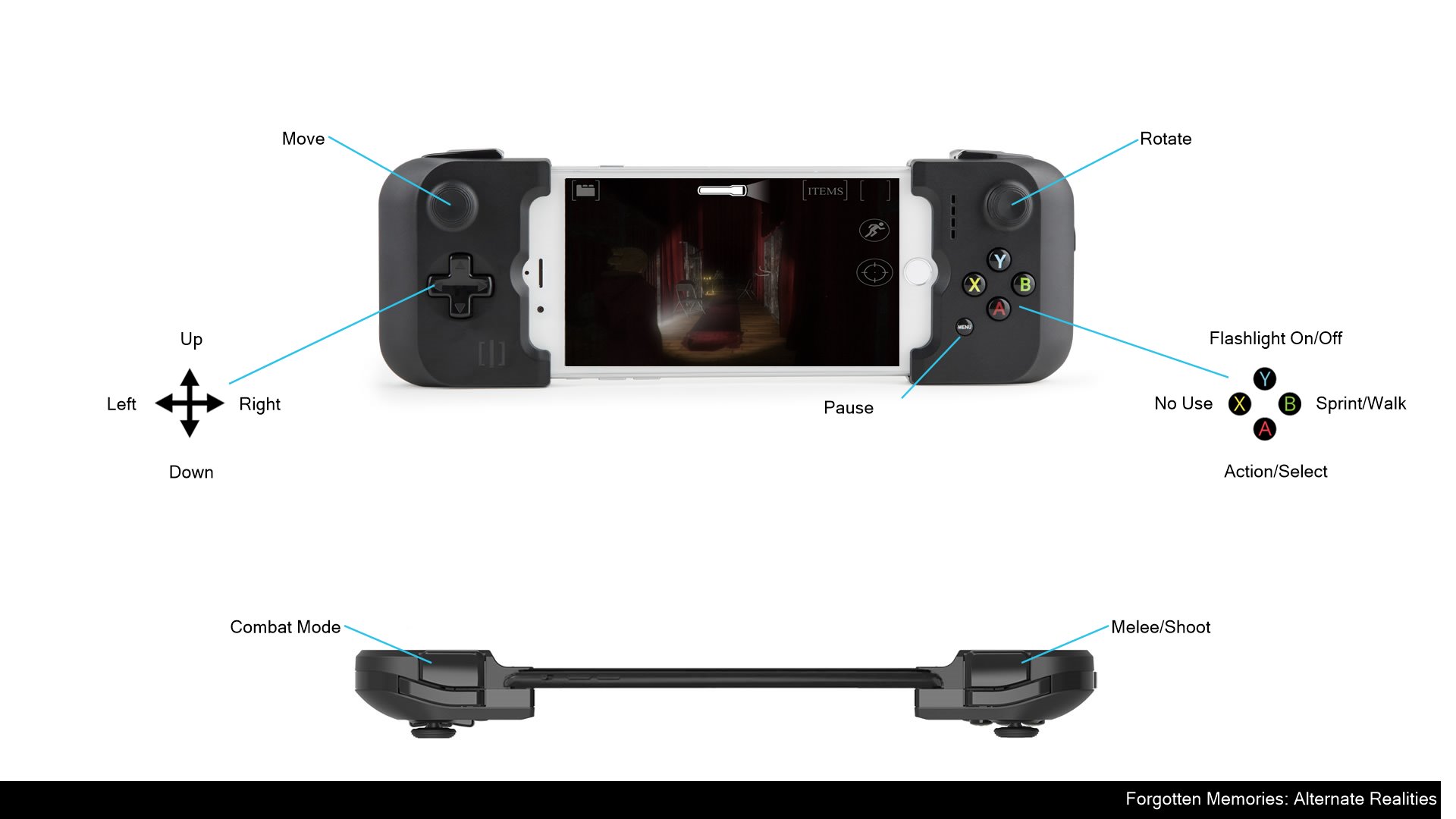 Finalist in the CVA videogames awards. Nominations: Best Audio, Best Original Music, Best Indie Game and Best iOS Game!
"The most exciting horror game of 2015." - AppSpy
"The developers have managed to craft a genuinely unsettling game with a moody atmosphere and masterfully engineered scares." - AppSpy
"Forgotten Memories is an atmospheric tale of horror" - 148Apps
"It's a well put-together tribute to survival horror games of yesteryear." - PocketGamerUK
"The game is easily recommendable for those looking for that Silent Hill feel." - Destructoid
AppStore customer rating: 9.5 out of 10!
TAKE A DEEP BREATH AND GET READY FOR THE HORROR OF FORGOTTEN MEMORIES.
Discover a true gaming and narrative experience on your iOS device.
In Forgotten Memories: Alternate Realities, you will play Rose Hawkins, a strong independent woman looking for Eden, a missing child. Rose wakes up wounded in a strange place she doesn't recognize. While looking for the young girl, she will find herself locked in a never ending tragedy; frozen in time. Rose will need to confront her deepest fears to unveil the mystery behind her terrifying investigation.
+ OLD SCHOOL SURVIVAL HORROR+
Forgotten Memories is a third person Psychological Survival Horror game combining exploration, reflection, puzzles, action and survival where the gameplay is focused on fear mechanics.
A true spiritual successor of the greatest horrific games from the 90's. Forgotten Memories is a classic survival horror game.
+ A GREAT PLAYER EXPERIENCE+
Forgotten Memories combines deep psychological story, beautifully rendered environments, and smooth gameplay action into a fantastic horror experience you will never forget.
Enjoy incredible voice acting with, among others, Guy Cihi and David Schaufele (James Sunderland and Eddie Dombrowski from Silent Hill 2).
Master the game with accurate touch systems.
+ FEATURES OVERVIEW+
• Classic survival horror mechanics
• A deep narrative and climatic psychological horror experience
• High-end and smooth 3D graphics (HDRL; Dynamic Lighting / Shadows; Multiple post-processes)
• Challenging gameplay (Limited save points; few med kits; restricted ammo; unpredictable environments; adaptive enemies)
• Highly replayable; Unlockables; Game Center achievements, challenges and leaderboards; In game ranking stats system.
• Accurate touch controls
• No in-app purchases. We don't sell any weapons, ammunitions, or anything that will impact the game experience. You will be on your own ;)
• MFI controller support
Supported Hardware :
Any iOS device supporting arm64 architecture.
Future updates:
We will keep improving and updating the game with new content and features.
Important:
MFI controller support is partial. Menu navigation with MFI will come in a future update.;