Genres
Controls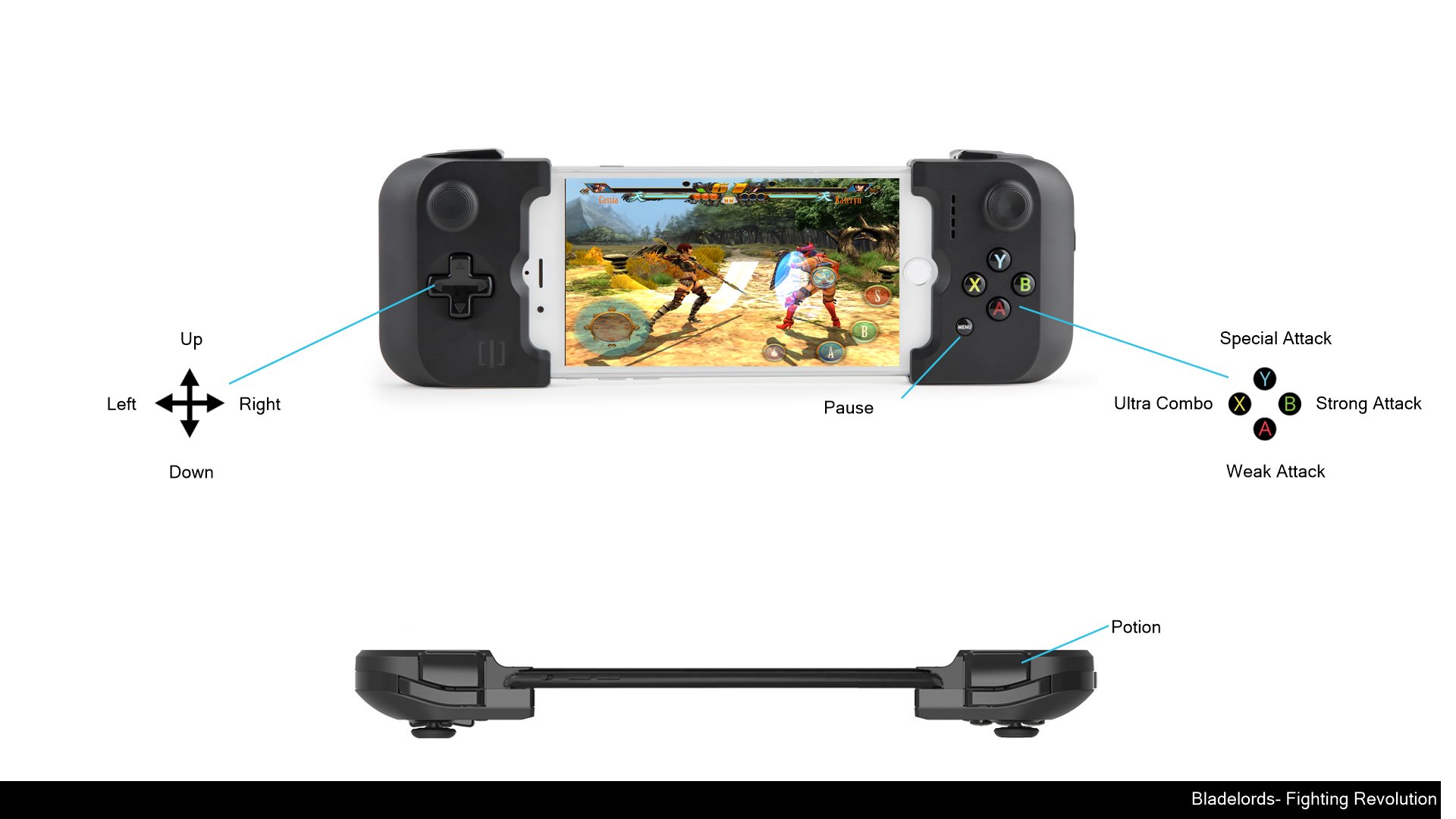 Reveal your inner fighter in this 3D fighting game! Play up to 16 fighters and upgrade their equipment and abilities. Challenge real players worlwide. Defeat hundreds of enemies. Show to everyone that there is no blade in this world that has any secret for you!
PLEASE NOTE! Bladelords is completely free to play but some in-game items will require payment.
----------------------------
***** They rate Bladelords - Fighting Revolution with 5 stars *****:
' IGN Gaming Network - One of the best hand to hand combat game ""5 out of 5"" @_nelsonfranco :Instagram' - TopGamingPlus+
' Awesome! - I really like this game, it's so fun. I don't regret for downloading it :D' - Hecki Miranda
' Great - Reminds me on soul caliber...so wat I'm sayin is it's a great game...so get it...now!!' Orange dgr4
' Awesome - I downloaded Tekken and it was a total disappointment! So I reluctantly chose this game. Man this is a classic fighting game with great graphics and tight controls. It works flawlessly on my iPhone 6. ' - Hot Chocolate #1
' A good time - This is a fun Tekken-esque fighting game for iOS and the best I have played so far' - Codename: Project 2501
' Boss game - This game is boss I would say recommend: for people who like too fight with swords' - Dffghhhhvvpye
They review Bladelords:
'Absolutely stunning' - Gameteep.net
'A great substitute to Street Fighter X Tekken Mobile' - Dotmmo.com
----------------------------
In an old empire set between Western middle-age and Japanese universes, a dark power is rising again to take over the world. The empire's destiny is in your hands. Start your journey across the 4 lands of the empire, gather the strongest fighters, and train them to unlock incredible fighting and magic powers.
Grab your sword NOW and become the ultimate Blade Lord!
Live a complete new fighting game experience with Bladelords! Fight with the original fighters cast, or choose among 10 brand new heroes : the Dark Knight, Saya, Cassia, Heishiro, Gargoyle, Eirin, Amane and much more! With them, fight your way in an Asian and medieval environment powered by the Unreal Engine 3!
----------------------------
Discover the major features of Bladelords - fighting revolution:
- Free to play
- New multiplayer mode
- 16 fighters to play with and many more to come with regular updates
- Specific combos and attacks for each fighter
- Stunning visuals and environments thanks to the Unreal Engine 3
- Different game modes to discover Bladelords : the Daily Chaos Portal, the Arena, the Tower of Infinity timed fights and numerous missions
- Score competition on leaderboards
- Achievements to unlock
- Potions to get the advantage on your opponents
- Upgrade your fighters to make them reach their full potential
- Get the arcade sensations back
- Intuitive controls
----------------------------
Having any problem or suggestion? We would love to hear from you! Don't hesitate to reach our support at support@playsoft.fr
Bladelords - the fighting revolution:
Be a fan: facebook.com/BladeLords
Playsoft Games:
Visit our website to discover our other games and apps: playsoftgames.com and
Like us: facebook.com/PlaysoftGames
Follow us: twitter.com/Playsoft_Games;