Genres
Controls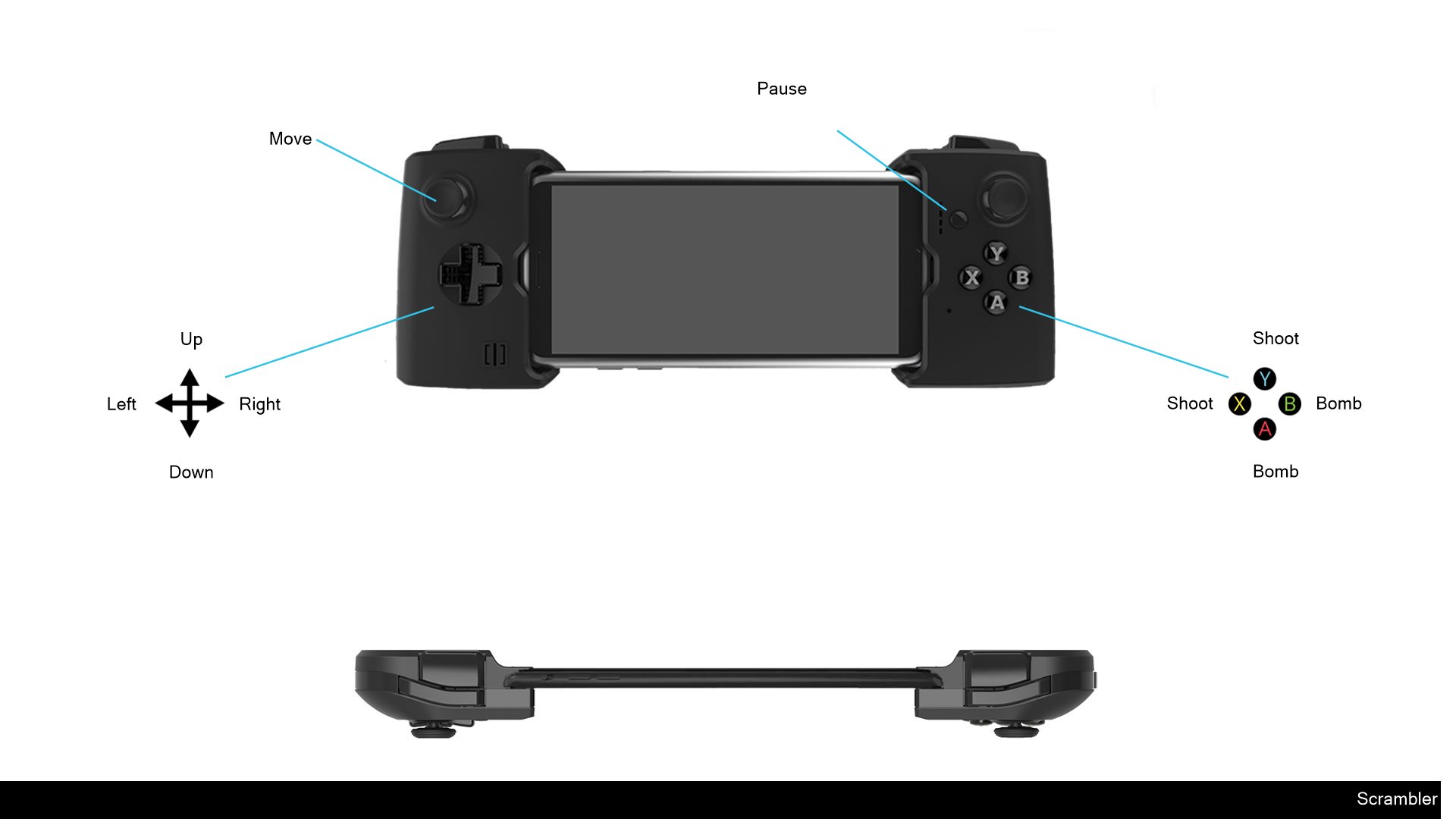 Push your skills to the edge with this free retro arcade game Scrambler. Great game-play that's typical of old games. A side scrolling shooter game where you navigate your ship through 6 different stages packed with menacing enemies, on the way to destroy the final Enemy Base.
KEY FEATURES
- Classic arcade coin-op experience; graphics, sounds, gameplay – everything is there!
- Two touchscreen player control methods, plus Bluetooth Gamepad Controller support
- Google Play Games: Global Leaderboards & 24 Achievements
- 100% playable without in-app purchases!
- Play offline: no WiFi / no internet required
- Save your game: For on-the-go gaming – continue whenever you want to
Tip: Download to a large tablet and sit back with a Bluetooth wireless gamepad!
GAME INFO
Pause/Quit:
Use your device's Back Button
Hi-Scores/Leaderboards: Two types:
1: Local to your device: Seen in attract/demo mode
2: Global: Google Play Games: Sign-in/view from pre-game options
Novice Mode (Easier):
Auto set ON at install, & auto turns OFF forever when you're familiar with the controls
Difficulty "Normal: Android Mode":
Terrain Avoidance System helps to stop you crashing into the ground
Easier Stage 5 (Maze) map
No losing lives on the final End Base stage
Difficulty "Brutal: GamePad a must!":
None of the above!
Tip: Use a Bluetooth Controller GamePad!
PLAYER CONTROL TIPS
Tip 1: Learn to quickly lift your left thumb & then touch again to "reset" the distance between your thumb & ship. E.g. push your ship forward then lift + retouch behind & above to fly near the ground, etc.
Tip 2: You can very quickly fire both your Lasers + Bombs by sliding your right thumb up & down over the buttons. You don't need to lift your thumb (& both buttons are auto-fire).
PERMISSIONS EXPLAINED
Note: Since Scrambler is free to play, it is supported by (optional) Video Ads, & helped by Analytics.
Read/modify/delete contents of SD card / USB storage:
Your SD card is only used for Video ads, which are cached to avoid delays/stuttering with playback. Scrambler does NOT access any other data.
View network connections / Full network access:
Video Ads & Analytics need access to the internet to function.
- Send bugs or suggestions to support@chrawfish.com
- You are allowed (and encouraged!) to put footage of Scrambler on YouTube or any other website
***This game is an unofficial clone of an old original game and is not endorsed by the registered trademark and copyright owners.;