Genres
Controls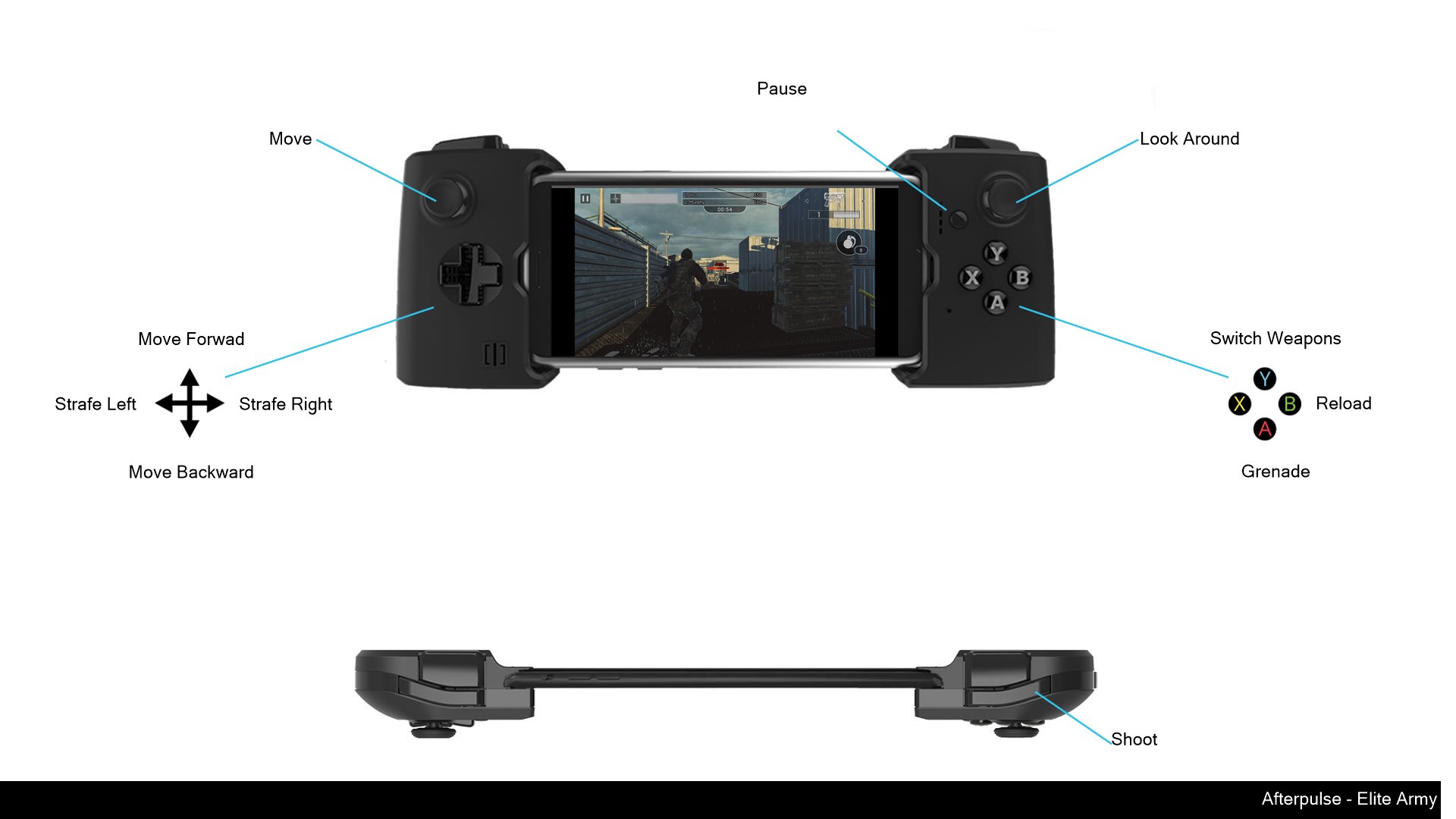 An electromagnetic pulse has transformed the world and leaders are deploying elite squads. Time has come for you to enter the fray, will you restore peace or ignite the largest world armed conflict in history?
Afterpulse is the next generation of online TPS, perfectly designed for mobile. Every detail has been especially designed to take advantage of the platform, capturing the essence of a console TPS.

KEY FEATURES
- Full Character Loadout Customization
- Afterpulse hosts the bigger array of items in the market - over 2500 items to choose from!
- Select your headgear, vest and pants to adapt your tactics to the ever-changing battlefield in Afterpulse!
A CONSOLE EXPERIENCE ON YOUR MOBILE DEVICE
Afterpulse 3D new generation engine allows players to enjoy a real console experience using a mobile device. Its cutting-edge physically based graphics create extraordinary environments that give rise to highly immersive and electrifying combats!
Enjoyed by over 14 million players, Afterpulse has received tremendous acclaim as one of the best and most realistic TPS for mobile devices on the market.
- AAA console-quality photorealistic TPS
- Full physically based deferred render, HDR post processing, real-time high quality shadows, realistic skeletal animations and ragdoll physics.
- 7 super realistic maps with their own smart weather systems (e.g. rain and snow) and hyper realistic textures.
- Diverse maps modifications to increase player's immersion in the game, such as: Night, Extreme Cold and Contaminated versions of many of our maps available in our Limited Time game modes!

LIMITED-TIME GAME MODES AND EVENTS
- Unleash your competitive spirit by taking part in the seasonal Game modes that are heavily centered on Multiplayer and Co-Op Challenges, all inspired by real military experiences.
- Seasonal progression: Working in parallel with standard progression, you are guaranteed to earn special rewards and content as you battle through the numerous events.
· Dread Season: Survive hordes of enemies using your long range gadget from the Motel rooftop!
· Winter warfare: Adapt your equipment and tactics to this extreme environment conditions where you'll need to fight freezing temperatures and hypothermia!
· Control the Zone: A key strategic position is marked on the map and you must fight to control it!
· Gamma Protocol: The Jester faction has used radioactive materials to pollute the environment in some key locations. You have been deployed to take control and secure any remaining hazardous materials.

COMPETITIVE MULTIPLAYER
- Put your skills to the test and compete to reach the #1 spot in our weekly rankings and get truly valuable in-game rewards!
- Share your squad ID with your friends and have a blast in our multiplayer or co-op game modes!
- Play synchronously with many players around the world.
- Solid game modes such as free-for-all, capture the flag and 8-player Team Deathmatch.

PLAYERS AT THE CENTER OF THE STAGE

- Our development team is constantly on the lookout for things to improve in the game and any feedback from our community is more than welcome!
- Continuous balancing and tweaking of underpowered and overpowered weapons, with community feedback at the center of development meetings about which weapons should be changed and how to change them

OTHERS
Internet connection is required to play
Universal App and requires iOS 10.0 or later
Compatible with iPhone 5S/6/6 Plus/7/7 Plus/8/8 Plus/ X, iPad Mini 2, 3 and 4, iPad Air and iPad Air 2, iPad Pro and iPad Pro 9,7''
Free to play, In-app purchases optional. Seek bill payer's permission.

© 2019 Digital Legends Entertainment S.L. All Rights Reserved.
** This game is available in English.
** There may be additional costs when trying to obtain certain items.
* Digital Legends Official Website : https://www.digital-legends.com/
* Digital Legends Customer Support : http://www.digital-legends.com/game_afterpulse_support.html;