Genres
Controls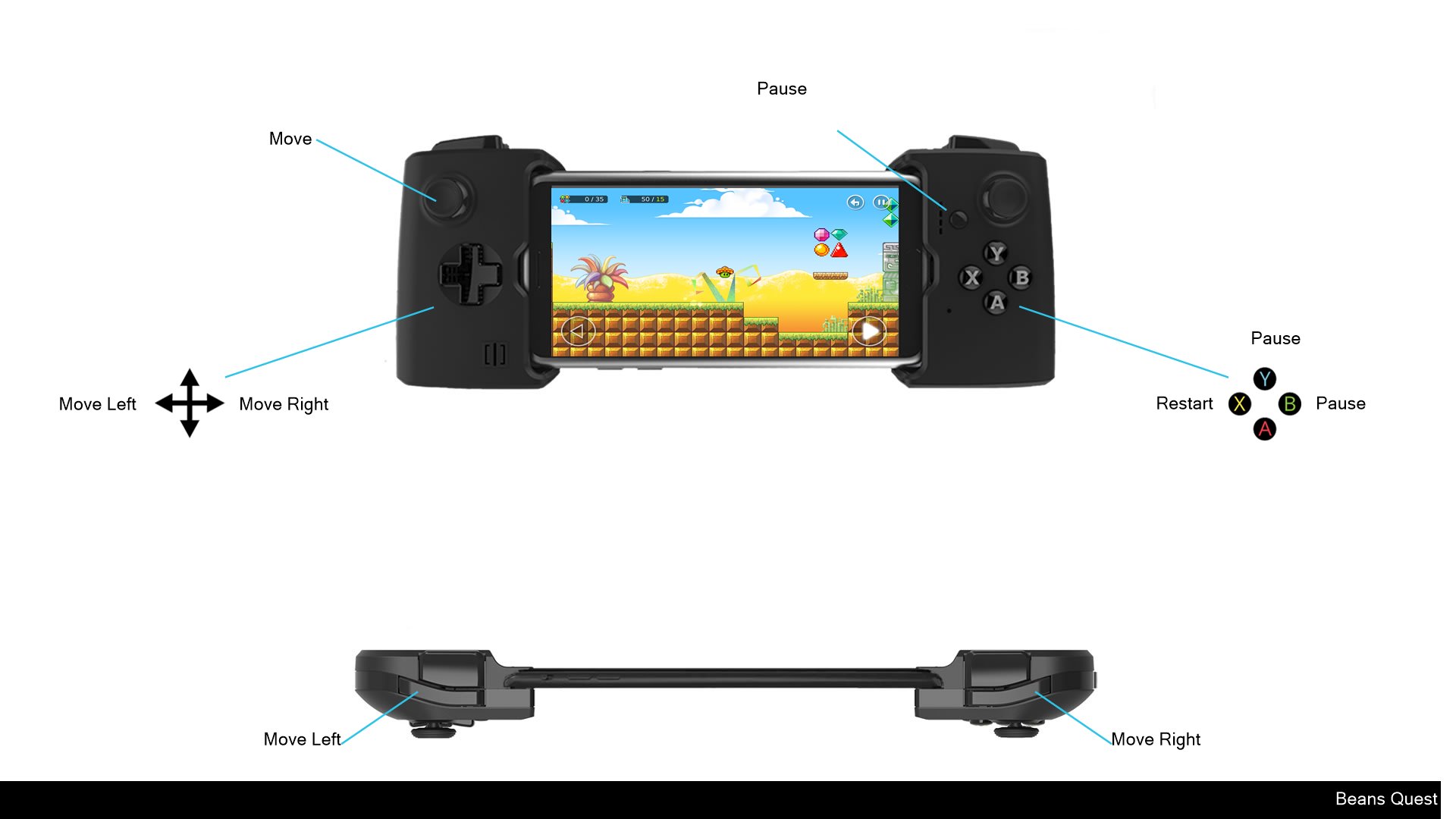 Enjoy platforming perfection on the go! Five worlds to explore with three achievements per stage! Bean's Quest is easy to pick up yet hard to master!
**Featured at PAX East 2012 in the Boston Indie Showcase**
~~ FEATURES ~~
- Five unique worlds to conquer!
- Over 150 challenges to complete.
- Incredible soundtrack with over 10 original pieces of music!
~~ STORY ~~
Emilio has been cursed and his girlfriend kidnapped! Transformed by dark magic into a jumping bean, you must bounce your way to victory through 50 levels spread over 5 worlds. Can you rescue your one true love and find your missing pet axolotls?
Bean's Quest brings back retro platforming to your Android device with super intuitive controls; touch left or touch right - it's so simple!
~~ CRITICAL RESPONSE ~~
"The graphics are perfectly vibrant, and have just enough of that 16-bit era pixely-ness to them without going overboard. The original soundtrack by Flashygoodness is an excellent pairing, and the controls work great…" ~ TouchArcade
"The graphics are fun, colorful, and a treat to look at." ~ AppAdvice
Awarded MMGN's App of the Week.
~~ GORGEOUS ART ~~
Beautiful 16-bit stylised artwork fills every stage; shimmering diamonds, sparkling special effects and subtle parallax culminate in a mesmerising view!
~~ MUSIC ~~
Each world has a unique soundtrack by acclaimed composer Flashygoodness.
~~ PHYSICS MAYHEM ~~
Push blocks, spin seesaws, roll boulders, crush enemies and dodge spike-balls! Classic platforming blended with physics puzzles and adorable creatures.
~~ DIAMONDS FOREVER! ~~
Every stage is jam packed with jewels to collect. A guy's gotta surprise his girl when he rescues her, right?
~~ RESCUE THOSE AXOLOTLS! ~~
The evil wizard who cursed you also kidnapped your pet axolotls - brutal! There's one hidden in every stage, track them down if you can!
~~ ACHIEVE PERFECT JUMP! ~~
Every stage has a perfect jump count. Make it to the end fast enough and you'll earn the perfect jump badge!
~~ CUSTOMER SUPPORT ~~
If you have any problems playing the game on your device, please contact us first before leaving a bad review. We want to squash any bugs quickly! support@kumobius.com
Thank you from the Kumobius team!
XPERIA PLAY Optimized;