Genres
Controls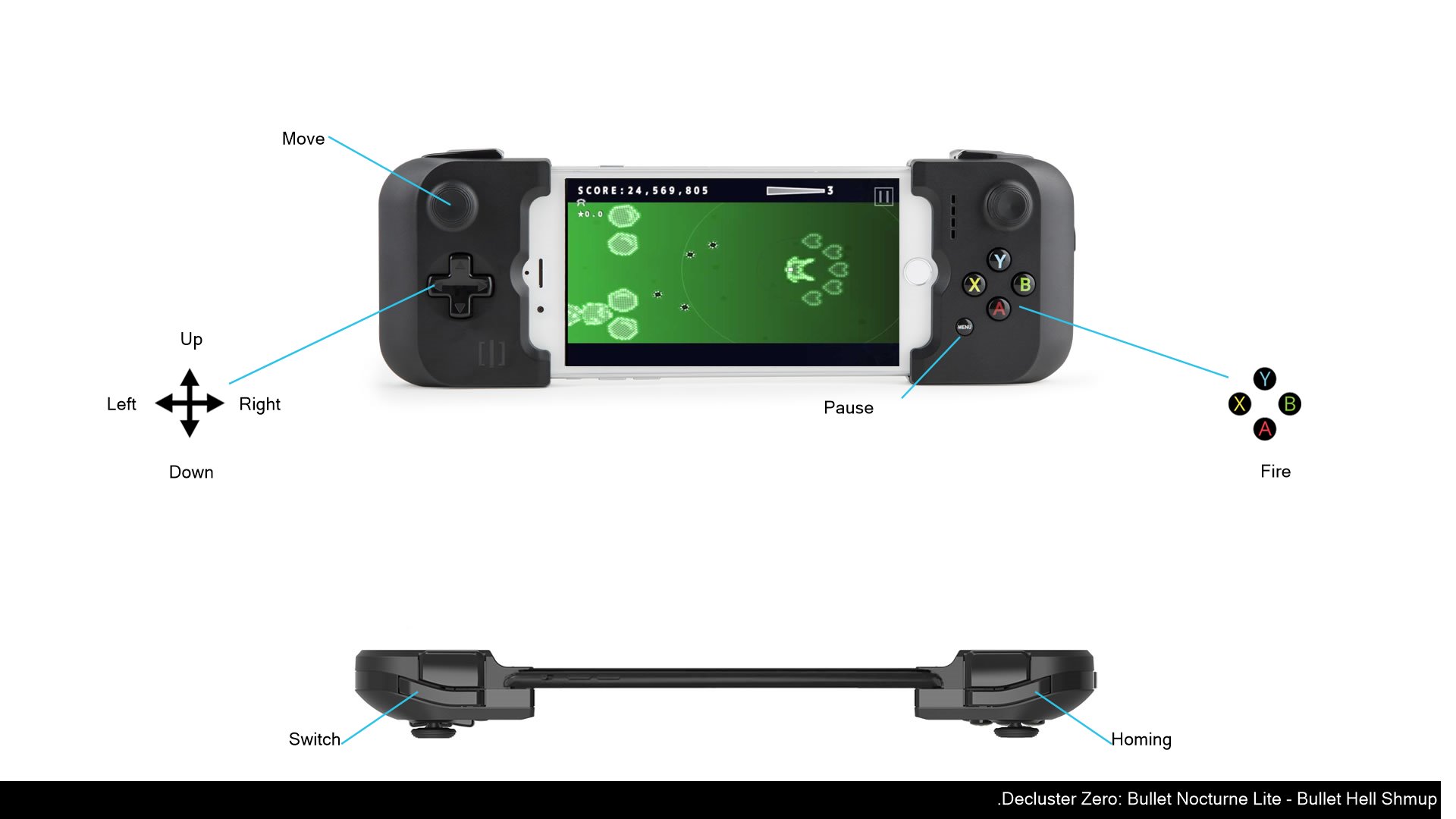 * You can play even on the Apple TV!
.Decluster Zero is simply an outstanding bit of joy.
- Touch Arcade (5/5)
.Decluster Zero: Bullet Nocturne is a fantastic bullet hell shooter.
- 148Apps (4.5/5)
--
'.Decluster Zero (dot decluster zero)' is a Japanese style bullet-hell shooter with abstract and pixelated neo-retro graphics. The game offers modern-classic bullet-hell gameplay and traditional Japanese beautiful bullet patterns. You'll get new bullet-hell experiences which are brought by Bullet-Canceling system.
In the game, you'll encounter tons of bullets which are insane. It is impossible to keep dodging, but you can erase the bullets easily.
A main mechanic is 'homing laser' with CANCELING enemy bullets around your ship. It requires gauge, but easy to fill.
You should use the homing laser aggressively and it is the best way to defeat enemies. Moreover, there is a mechanic which slows down bullets around your ship in order to dodge them easily.

Are you interested in this game? You can watch user's replay videos on Everyplay:
https://everyplay.com/-decluster/videos
You can also watch them in this app. Tap 'EVERYPLAY' button on the title screen.
--
.Decluster Zero is a remix version of bullet-hell shooter '.Decluster: Into The Bullet Hell'. With many remixes and new features: remixed soundtracks, modified mechanics, redesigned levels, and more.

#1 SOUND
- Remixed all soundtracks + new soundtrack
#2 MECHANICS
- Expanded homing laser system
- Touch and hold a second finger...
- Bullets around the player are slowed down (Capture Mode)
- New scoring system
(Homing laser basics are the same as before: requires meter and cancels bullets.)
#3 LEVEL DESIGN
- Redesign for new mechanics plus new scenes
- Modify/add bullet patterns and enemies
#4 PLAYER SHIP
- Full-power from beginning
- Change basic weapon anytime
- Three level stock homing laser gauge
- Charge the meter by itself (Charge Mode)
#5 GRAPHICS
- Improve visibility
- Improve graphics quality
--
FEATURES:
- Japanese style bullet-hell shooter
- Terrific bullet hell experience
- 5 various levels + 1 (*The lite version includes one level only.)
- Beautiful bullet patterns
- Boss battles which take your breath away
- 4 levels of difficulty that actually make a difference
- Soundtracks to make you high
- Optimized controls for mobile
- Restart from any level you reached
- Adjustable gameplay area
- Various settings
- Replay video through Everyplay
- Game Center support - Leaderboard/Achievement
- Leaderboard for each difficulty/level
- Universal app for iPhone/iPad/Apple TV
- MFi controller support

Trailer:
https://www.youtube.com/watch?v=QZI665o_pMs
SoundCloud:
https://soundcloud.com/dot_decluster
Twitter:
https://twitter.com/dot_decluster;