Genres
Controls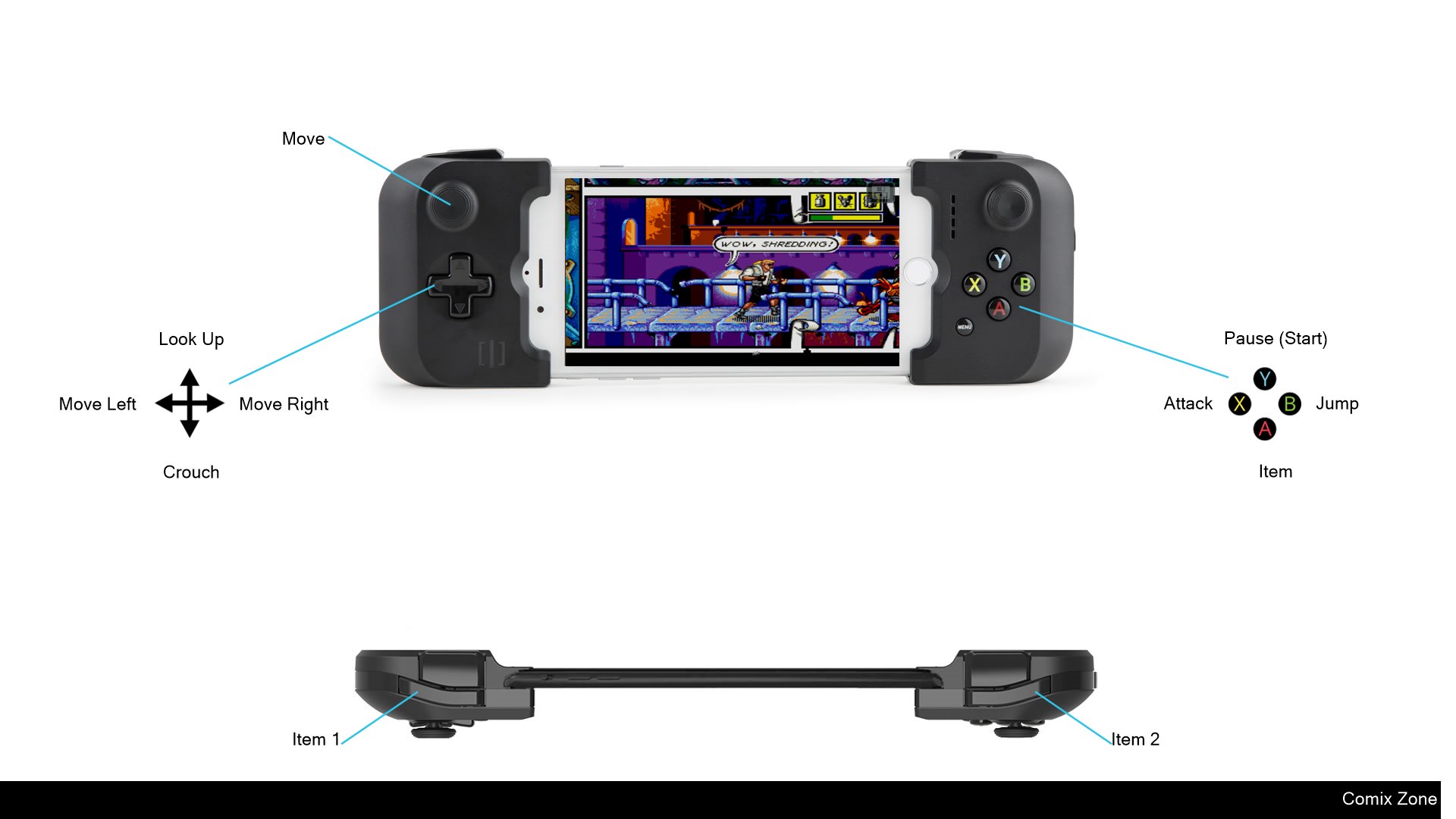 Enter the Comix Zone, in SEGA's classic arcade-style beat 'em up, now available on mobile for the first time. Play free and prepare for the first truly interactive comic book ever!
You are Sketch Turner, a street-wise comic book artist trapped in a comic book world of your own creation. Journey into this post-punk nightmare world. See your enemies drawn before you and defeat them. Battle the Mutant Queen. Survive the Dead Ship and Lava Mines. Then defeat the super-villain, Mortus, to escape.
Comix Zone joins the SEGA Forever Classic Games Collection, a treasure trove of free SEGA console classics brought to life on mobile for the first time!
FEATURES
- Battle panel by panel through full hand-drawn comic book pages
- All the action and adventure of your favorite comics!
- Unleash superhero power-ups and tons of intense fighting moves
- Wield knives, hand grenades, dynamite, and paper planes*
- Search out hidden items with your pet rat, Roadkill
- Sharpen your fighting skills to defeat mutant enemies drawn by Mortus, public enemy No.1
SEGA FOREVER FEATURES
- PLAY FREE
- SAVE YOUR GAME PROGRESS AT ANYTIME
- LEADERBOARDS – compete with the world for high scores
- CONTROLLER SUPPORT: HID compatible controllers
- OFFLINE PLAY
- GAMES RELEASED EVERY MONTH - download them all!
- INCLUDES iOS 10 STICKER PACKS
RETRO REVIEWS
- "Comix Zone oozes style, looks fantastic and plays brilliantly." [92%] - Mark Patterson, Computer & Video Games #167 (October 1995)
- "A new concept that really delivers. Just imagine taking your favourite comic and controlling the action." [91%] - Nick Protz, Sonic the Comic #60 (15 September 1995)
- "This is a game that deserves to win over the most jaded beat 'em up practitioners." [89%] - Marcus Hearn, Mean Machines SEGA #36 (October 1995)
- "Once again SEGA come up trumps with an original title guaranteed to give gamers many sleepless nights." [83%] - Mat Yeo, SEGA Pro #50 (October 1995)
- "A twinkling star in the vacuous space of platform / beat 'em ups." [81%] - Dean Mortlock, SEGA Power #72 (November 1995)
- "One of the best-looking games, indeed, ever to grace the Mega Drive." [79%] - Mr Biffo, Digitiser (7th October, 1995)
COMIX ZONE TRIVIA
- Press and hold the punch button to tear off a piece of the comic book, make a paper plane, and throw it at enemies
- Make Sketch pass gas by repeatedly pressing down on the D-Pad in certain areas
- Comix Zone features a happy and sad ending depending on how you defeat the final boss
- SEGA held patent US 6010405 for the game systems innovative simulation of a comic book

COMIX ZONE HISTORY
First released August 1996 on the SEGA Mega Drive/Genesis system
Developed by: SEGA Technical Institute
Designer: Peter Morawiec
Lead Programmer: Adrian Stephens
- - - - -
Privacy Policy: http://www.sega.com/mprivacy
Terms of Use: http://www.sega.com/terms
Game apps are ad-supported and no in-app purchases are required to progress; ad-free play option available with in-app purchase.
This game may include "Interest Based Ads" (please see http://www.sega.com/mprivacy#3IBADiscolure for more information)​ and may collect "Precise Location Data" ​(please see http://www.sega.com/mprivacy#5LocationDataDisclosure ​for more information)​.
© SEGA. All rights reserved. SEGA, the SEGA logo, Comix Zone, SEGA Forever, and the SEGA Forever logo are registered trademarks or trademarks of SEGA Holdings Co., Ltd. or its affiliates.;