Genres
Controls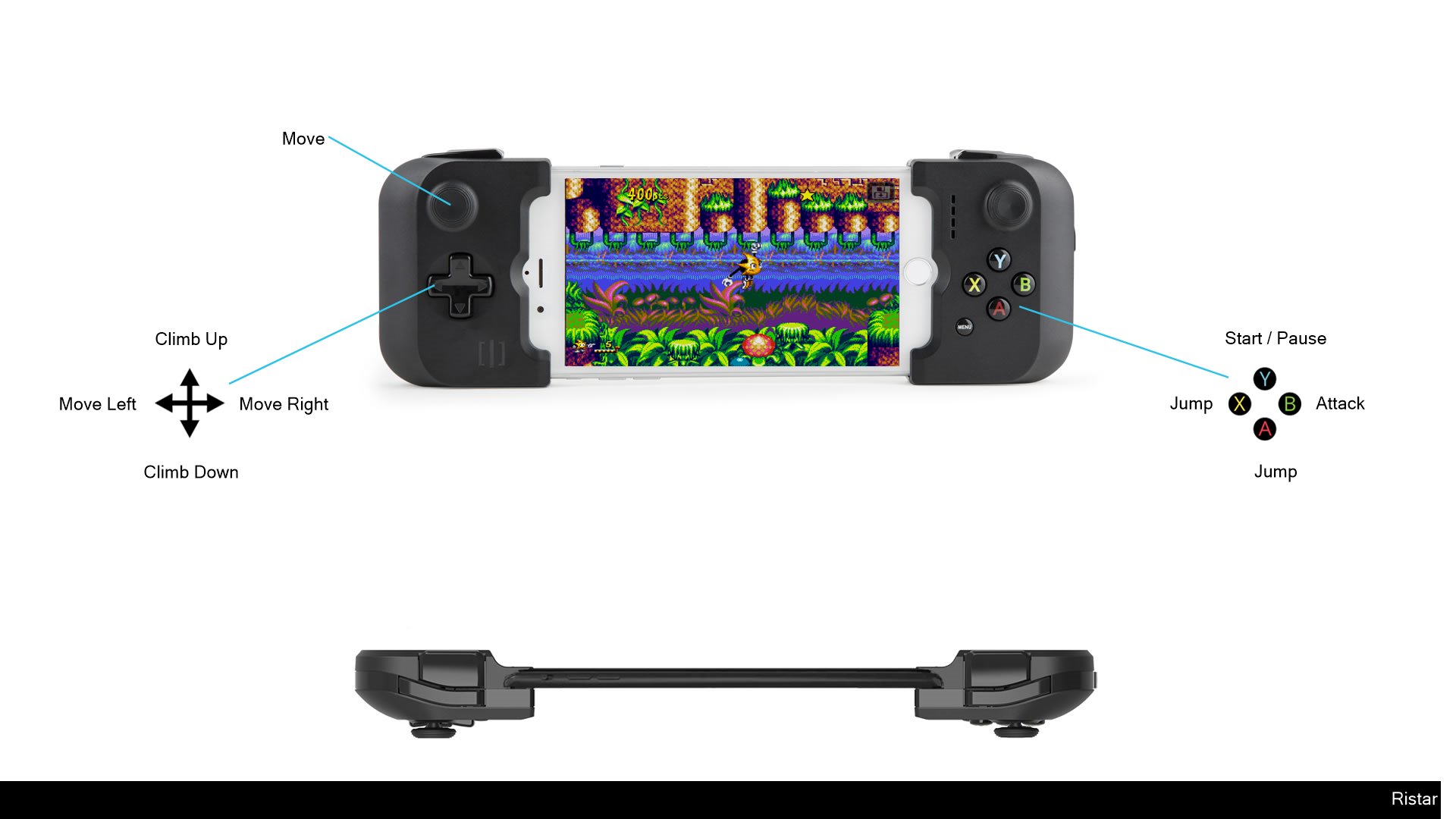 Travel the galaxy in SEGA's classic platformer Ristar, now available on mobile. Play free and rediscover this SEGA gem!
Galactic tyrant Kaiser Greedy has enslaved the Valdi star system. Leaders of every planet have been brainwashed, and only you, Ristar, can free them. Use Ristar's extendable limbs to swing, climb, grapple and grab your way across six planets and end Greedy's grip on the galaxy!
Ristar joins the SEGA Forever classic games collection, a treasure trove of free SEGA console classics brought to life on mobile for the first time!
FEATURES
- Six planets to rescue, spanning every corner of the galaxy.
- Use Ristar's extendable arms to smash, grab, and grapple Greedy's minions
- Battle unique bosses across all six planets
- Grab enemies to destroy them or use them to pivot through a level
- Perform 'shooting star' attacks to kill multiple enemies at once!
SEGA FOREVER FEATURES
- PLAY FREE
- SAVE YOUR GAME PROGRESS
- OFFLINE PLAY
- GAMES RELEASED EVERY MONTH
- DOWNLOAD THEM ALL
RETRO REVIEWS
"It's all really fast-paced, split up perfectly into bite-sized chunks, and above everything else it's just really good fun." [90%] - SEGA Magazine #22 (October 1995)
"A twinkling star in the vacuous space of platform / beat 'em ups." [81%] - Dean Mortlock, SEGA Power #72 (November 1995)
RISTAR TRIVIA
- Ristar was originally intended to be a rabbit with extendible ears
- The working titles for the game included 'Dexstar' and 'Feel'
- The soundtrack was provided by Tomoko Sasaki, the composer of NiGHTS into Dreams...
RISTAR HISTORY
- The game was originally released in 1995
- Developed by: SEGA
- Designer: Takumi Miyake
- Lead Artist: Yuji Uekawa
- - - - -
Privacy Policy: http://www.sega.com/mprivacy
Terms of Use: http://www.sega.com/Mobile_EULA
Game apps are ad-supported and no in-app purchases are required to progress; ad-free play option available with in-app purchase.
This game may include "Interest Based Ads" (please see http://www.sega.com/mprivacy#3IBADiscolure for more information)​ and may collect "Precise Location Data" ​(please see http://www.sega.com/mprivacy#5LocationDataDisclosure ​for more information)​.
© SEGA. All rights reserved. SEGA, the SEGA logo, Ristar, SEGA Forever and SEGA Forever logo are registered trademarks or trademarks of SEGA Holdings Co., Ltd. or its affiliates.;