Genres
Controls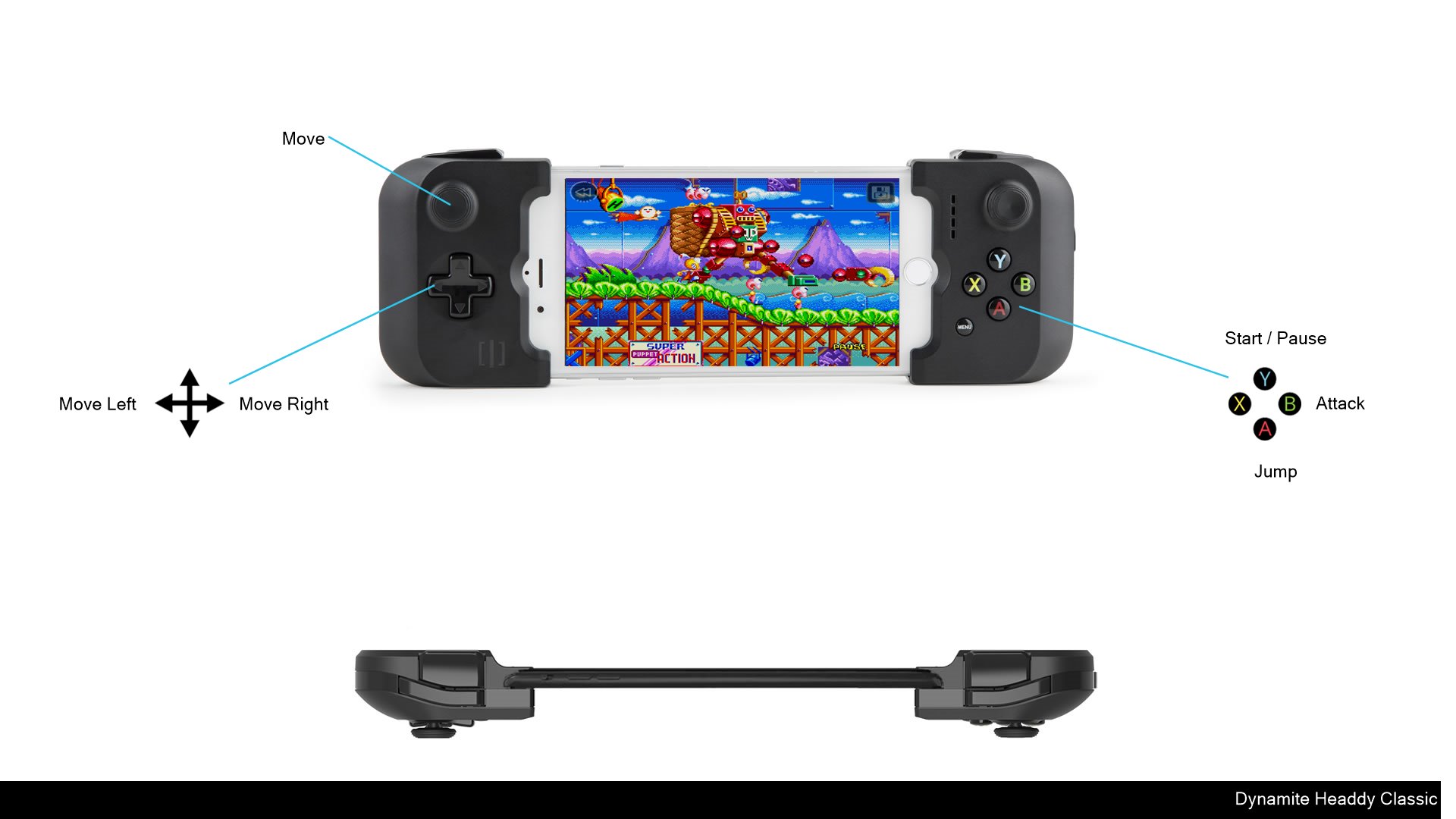 Head-swapping fan-favorite Dynamite Headdy is now available on mobile! Play free and rediscover SEGA's quirky classic!
On-stage rampage! The theater world can be deadly, especially where Dynamite Headdy works! As star of the Treasure Theater Show, Headdy must thwart the jealous Dark Demon and his keymaster henchmen from taking over the world! Collect Power-Up Heads for amazing abilities like invincibility, flight, and laser-firing nostrils (yes, really!), and save the planet! Remember – a cool head always prevails!
Dynamite Headdy joins the ever-increasing line-up of 'SEGA Forever', a treasure trove of free SEGA console classics brought back to life on mobile!
FEATURES
- Use Headdy's spring-loaded head to swing over ledges, grab onto objects, and even shoot hoops in the basketball bonus round!
- Wear 18 diiferent heads that can freeze time, explode, vacuum up every enemy in sight, and more!
- Battle and best 28 different bosses across dozens of Scenes!
- The original level select code still works! Do you remember it?
MOBILE GAME FEATURES
- PLAY FREE with ad-support or ad-free via In-App Purchase
- SAVE YOUR GAMES – save your progress at any point in the game
- LEADERBOARDS – compete with the world for high scores
- HAPTIC SUPPORT: get into the game with responsive button presses
- CONTROLLER SUPPORT: MFi compatible controllers
- JAPANESE VERSION HAS BEEN ADDED - you can access it by selecting "Game Version" in the Main Menu.
RETRO REVIEWS
"You couldn't ask anything more of a platform action game." [96%] - Chris Slate, Game Players Vol. 7 Issue #10 (October 1994)
"A joy to play." [93%] - Paul Bufton, Mean Machines SEGA #25 (November 1994)
"Dynamite Headdy breathes new life into this stale genre." [92%] - Rik Skews, Computer & Video Games #155 (October 1994)
DYNAMITE HEADDY TRIVIA
- The Japanese version of the game is quite different, with alternate boss skins, easier difficulty, and more in-game text!
- Headdy, star of the show, is known as the "Champion of truth, justice, and bananas everywhere."
- A cut-down port of the game was also released on the Game Gear worldwide, and for the Master System in Brazil
- Each level's title is a reference to famous movie or TV show... can you figure them all out?
DYNAMITE HEADDY HISTORY
- Dynamite Headdy was released worldwide in 1994
- Developed by: Treasure
- Director: Hiroshi Aso
- - - - -
Privacy Policy: http://www.sega.com/mprivacy
Terms of Use: http://www.sega.com/terms
Game apps are ad-supported and no in-app purchases are required to progress; ad-free play option available with in-app purchase.
This game may include "Interest Based Ads" (please see http://www.sega.com/mprivacy#3IBADiscolure for more information)​ and may collect "Precise Location Data" ​(please see http://www.sega.com/mprivacy#5LocationDataDisclosure ​for more information)​
© SEGA. All rights reserved. SEGA, the SEGA logo, Dynamite Headdy, SEGA Forever, and the SEGA Forever logo are registered trademarks or trademarks of SEGA Holdings Co., Ltd. or its affiliates.;