Genres
Controls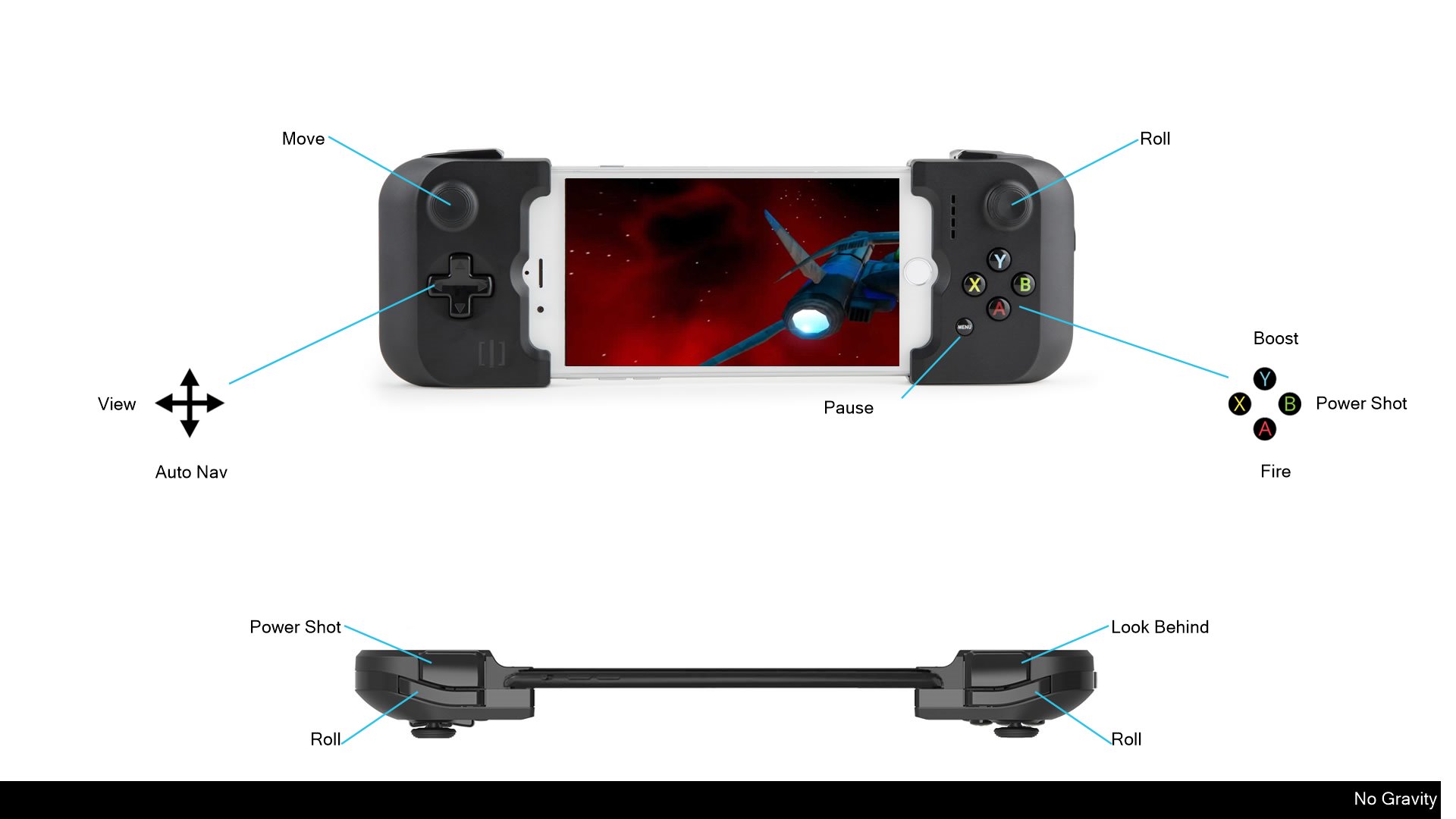 Are you brave enough to play No Gravity? You'll need steady nerves and a strong heart to fly around dangerous obstacles, face hostile environments and use deadly weapons to accomplish your missions and protect your people. Hurry, download this iPhone version of the PSP favorite, before it's too late. Click "...More" to learn why you should download this App today!
"No Gravity is an iOS port of the PSP space combat game. Full of action and an impressive visual appeal, No Gravity really rocks for those of us with a taste for full-featured arcade titles. Also, with 31 missions and hours of content, you can't really argue with the abnormal pricing model."
by TouchArcade.com
"Just download it. Trust me, it is incredible and well worthy of your minutes on planet Earth!"
by JushPushStart.com
In a distant future, spread across thousands of colonies, the empire is under attack from a mysterious, unknown sickness that is affecting people's minds. So far, you've been able to remain healthy but you don't know for how much longer.
As one of the few survivors of this bewildering plague, it's up to you to seek out and destroy the enemy that unleashed this madness. If you don't, there remains no hope for your planet or your people. Are you prepared to tackle 31 missions and destroy the heinous foe?
This is not a job for wimps. No Gravity is fast-paced and full of action. You'll need to draw on your deepest level of calm bravado to succeed in these dangerous missions.
When you're ready, choose your character and one of six customizable ships. Each one is equipped with an impressive array of weapons, so you'll have plenty of tools at hand for the job. Whether you need lasers or ion blasters, everything is there to help you win the war against your hostile enemy.
Once in your ship, you'll fly through space, skimming over six different worlds, moving along underground craters and through massive asteroids fields. You need to keep your wits about you or it's game over before you've accomplished your mission.
You're not alone out there, though. Allied ships will accompany you through the hostile space stations, help you destroy enemy bases and clear mine fields. As the mysteries of the surrounding space unfold, be prepared to unleash your firepower on anything that gets in your way. You must be unstoppable in order to save your people.
It's not all hard work. Along the way, you'll have plenty of entertainment. There are massive explosions, an assortment of ships and weapons, 2 difficulty modes and you can even take on your missions in the first or third person views.
Did you do well on your mission? Great, now you can reap the rewards of success. Go ahead and unlock your Achievements section to grab your bonus new ship paint, artwork or something else that strikes your fancy.
Have a look at some of the features you get when you download No Gravity:
• Incredible, fast-paced, non-stop action
• This is the iPhone version of the PSP for Playstation favourite
• Full frame rate
• Massive explosions and damages
• Play in first or third person view
• Select from 5 characters and 5 space ships
• Each ship available in 4 different colours
• Choose from 6 different, awesome weapons
• 31 mission levels to play
• Reward system with achievements to unlock with Game Center.
• High definition, 3D engine optimized for the iPhone and iPad. Retina Display for iPhone 6 option and Ultra mode for iPad with Retina Display (with twice graphical details). Support for Metal.
• Multitouch, accelerometer and arcade control.
• iCloud backup and sync.
• Airplay support: Play on your TV and use your iPhone/iPad as controller
• iCade compatible
• iOS7 game controller support.
• iPhone X compatible.
Are you still here? Hurry up and download No Gravity now! Your people and your destiny await you.;