Genres
Controls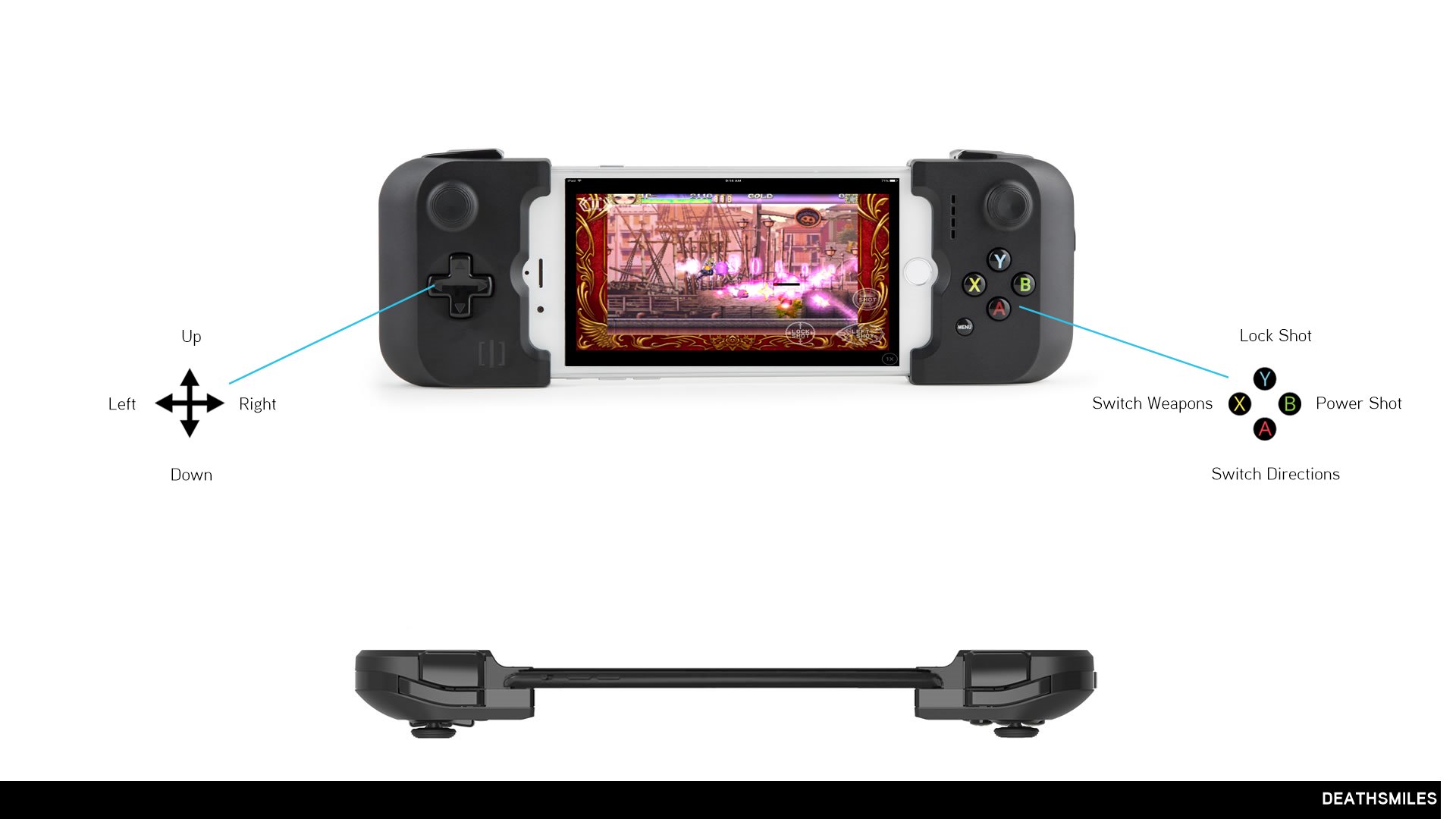 ### CRITICAL ACCLAIM ###
"DeathSmiles is a thrilling ride from beginning to end. Its crazy japanese visual style combined with a mash up of rock and techno music (including a cameo from tubular bells) is a joy to behold. Combine that with intense shooter action, item upgrades, a bizarre storyline, and multiple endings, and you have one of the best shooters on the AppStore, joining it's brothers and sisters from CAVE as the best of the best. "
-TouchGen
"This shmup can be accessible to greenhorns, or a rock-hard mettle test for danmaku veterans, meaning fans and curious onlookers should both jump right in."
-Pocketgamer
### DEATHSMILES ###
From the Xbox 360, to the iPhone, hit Gothic Horror Shooter "Deathsmiles" finally arrives on the iPhone and iPod touch! Once more, the Angels descend upon Gilverado!
● NEW GAME MODE + PRACTICE MODES ADDED!
In addition to the Arcade Version of "Deathsmiles", Deathsmiles iPhone includes a Smartphone Mode with a new character and original story!
This mode is packed full of content sure to satisfy those who have played Deathsmiles before, and those who are just starting out. Practice Modes are also included for learning the stages!
● REVAMPED CHARACTER DESIGNS
● BRAND NEW MUSIC!
Brand new music for your quest through Gilverado!
Original Arcade BGM also included!
● POWER UP YOUR CHARACTER WITH EQUIPMENT AND ITEMS!
Players can power up their Princess by using equipment and items bought from "Sakura's Shop", as well as those dropped by enemies in stages throughout the game.
● COMPATIBLE WITH GAME CENTER
Rankings are included for each game mode and character!
Compete with players all over the world for high scores, and unlock achievements by completing in-game challenges!
Go for a full achievement list!
● MULTIPLE CONTROL SETTINGS
Several button layouts are available in the Options so that even beginners can handle complicated controls.
A GUINNESS-RECOGNIZED SHOOTER!
Beautiful graphics, complete with waves of bullets that fill the screen!
■ ABOUT DEATHSMILES
Deathsmiles is CAVE's horizontal-scrolling shooter released to arcades in 2007. With its signature gothic horror setting and charismatic characters, Deathsmiles was ported to the Xbox 360 in Japan 2009, and released in North America via Aksys Games in 2010, and Europe via Rising Star Games in 2011.
### IMPORTANT ### : Please read the below before purchasing.
This game will only run on iPhone 3GS, iPod touch 3rd Gen and later devices, as well as iPad (iOS4.3 and up). Other devices are incompatible.
※If you are unsure whether your device is compatible with the application, please download the LITE version and confirm that it works on your device.
※Since this application uses a significant amount of memory, it is possible that it will crash when device memory is low. If this happens, please consult our Support Page.
※Turning the expand/shrink accessibility function "ON" may interfere with in-game play.;