Genres
Controls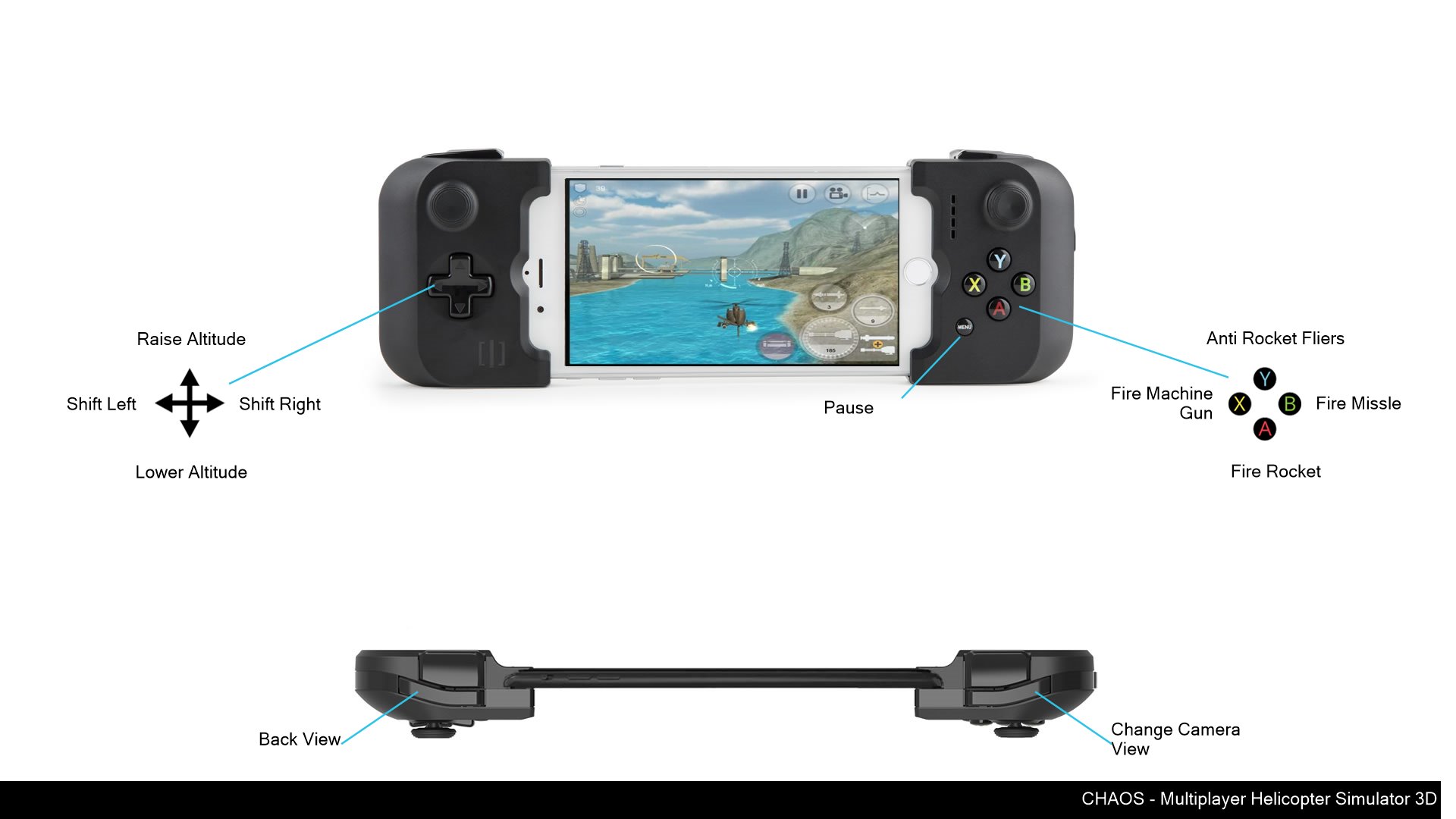 ENJOY WHAT IS SIMPLY THE BEST MULTIPLAYER HELICOPTER ARCADE ON SMARTPHONES
C.H.A.O.S - Combat Helicopter Assault Operation Simulator
CHAOS - is a unique opportunity to act online as a pilot of a military helicopter. The game simulator is an unequalled power of a fighting vehicle (like Apache, Chinook, etc.) in your hand. This realistic feeling of flight and the ease of management of a difficult machine are available to an ordinary user.
In comparison with common game-shooters,CHAOS has the advantage of high-detailed helicopter models, true-to-life maps and battle locations, unique sound and visual effects. War is waged not only in the sky: tanks, self-propelled units, ships, submarines, enemy planes attack and makethe game process and dogfight very intense.
Training missions and online battles, regular tournaments and video-recording of dogfights, detailed statistics of battle achievements, loyal system of awards, prizes and various bonuses – and this is onlya part of the conquering world of CHAOS multiplayer.
Characteristics:
* Prizes
- Video of fighting for the analysis and preparation for combat available
- 2 types of tournaments: regular (includes 3 leagues) and elite (for seasoned fighters)
- The integration of games with Game Center and Facebook
- Realistic helicopter simulator and game play, rich with action and events
- Highly detailed helicopter 3D models from leading manufacturers including the U.S., Russia, Europe and China (The McDonnell Douglas Helicopter Systems MD500 Defender,OH-6 Cayuse, The Bell UH-1 Iroquois, UH-1D huey, AH-64 Apache, UH-60,Black Hawk, MI-24 Hind,MI-28 Night Hunter, KA-50 Black shark, Ka-52 Alligator, Boeing/Sikorsky RAH-66 Comanche, AH-1 SuperCobra, CH-14 Aguilucho) and other
- Unique visual and sound effects
- Real maps and battle locations
- 8 training missions, you can prepare for the air fight by passing training missions
- Ability to improve performance and upgrade weapons for your helicopter
- Medals and orders for the professionalism displayed in battle
- Detailed statistics combat achievements, which is available both in game and on the website
The War never ends.Si vis pacem, para bellum is a Latin adage translated as, "If you wish for peace, prepare for war".
Add friends, participate in tournaments, improve combat skills in between tournaments in training missions and online battles, and win awards and titles.
Detailed schedule of the tournaments can be found on the website http://chaos-game.com - watch the updates of the schedule.
PS - If you have a problem we'll do all we can to help. Please contact us before giving the game a bad review by emailing support@chaos-game.com, we'll hopefully turn your bad experience into an awesome one!
Issue with our app? Suggestions for a level? - Please send us an email: support@chaos-game.com
Connect with us:
Facebook https://www.facebook.com/chaos.game.HD
Forum: http://chaos-game.com/en/forum/
Twitter: https://twitter.com/Chaos_game
Web site: http://chaos-game.com;