Genres
Controls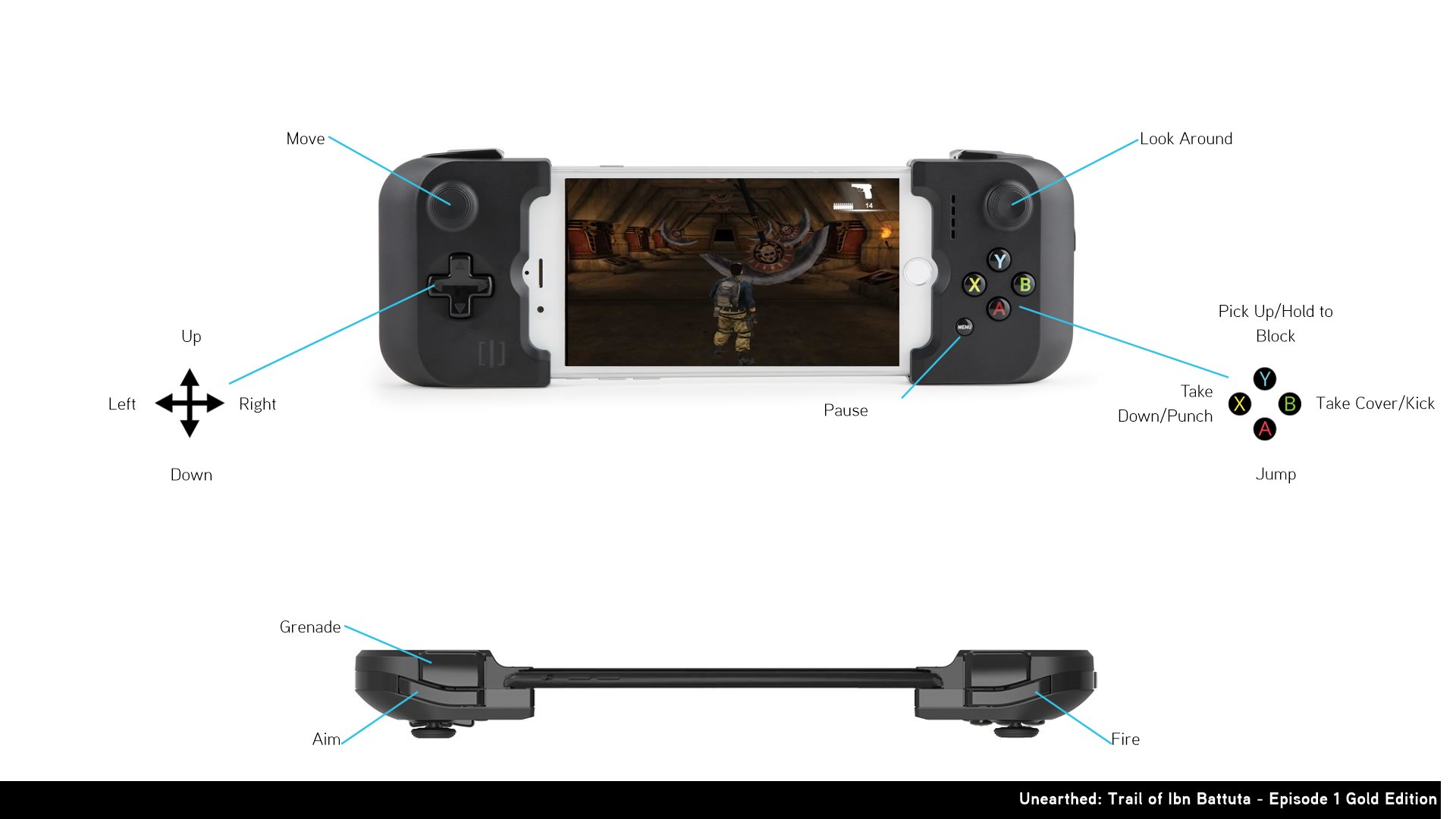 هذه النسخة من لعبة الركاز تحتوي على جميع اللغات بما فيها اللغة العربية. 
Note:
- Requires iPad 2 and up, iPhone 4S and up. However, iPhone 5/5S or iPad 4/Air are highly recommended for the best experience.
- Download size is 1.99 GB, but 4 GB are required to install the game.
- Supports iOS 7 Game Controllers! This includes both the "Standard controllers" like the Logitech PowerShell and the "Extended Controllers" like the Moga Ace Power.
* Trailer:
http://www.youtube.com/watch?v=x9dOhmPe_3U
Unearthed is an episodic third person Action Adventure game set in modern day Middle East. The game is available in Arabic and English voice over and features 21 Languages for Menus and Subtitles.
When fortune hunter Faris Jawad and his sister Dania receive a call to visit Morocco they embark on an exotic adventure throughout the middle east on the trail of the famous Muslim explorer Ibn Battuta. The trail won't be clear however as Faris and Dania will have to overcome an unholy alliance of a militia army leader, a weapons dealer and a wealthy antiquities smuggler who are after the same goal.
* Features:
• Travel across the Middle East from the wild life of Moroccan Atlas mountains to the alleys of old Damascus through the port of Alexandria and the metropolitan city of Dubai.
• Unique mix of platforming, melee fighting, shooting and stealth gameplay.
• Presented in a TV style episodic format along with recaps of previous episodes and teaser cliff hangers of what lies ahead.
• Unlockable Survival Mode: Battle against endless waves of enemies (Mummies, Zombies, Ghouls) across varied maps.
• Unlockable Extras: Concept Art, Renders, Animatics, Cutscenes, Character Gallery, Treasures
• Available in 21 languages for menus\subtitles. Voice-over in Arabic and English
* Follow Us:
• Website: http://www.unearthedgame.com
• Facebook: http://www.facebook.com/UnearthedTheGame
• Twitter: http://www.twitter.com/UnearthedGame
• Youtube: http://www.youtube.com/UnearthedGame;