Genres
Controls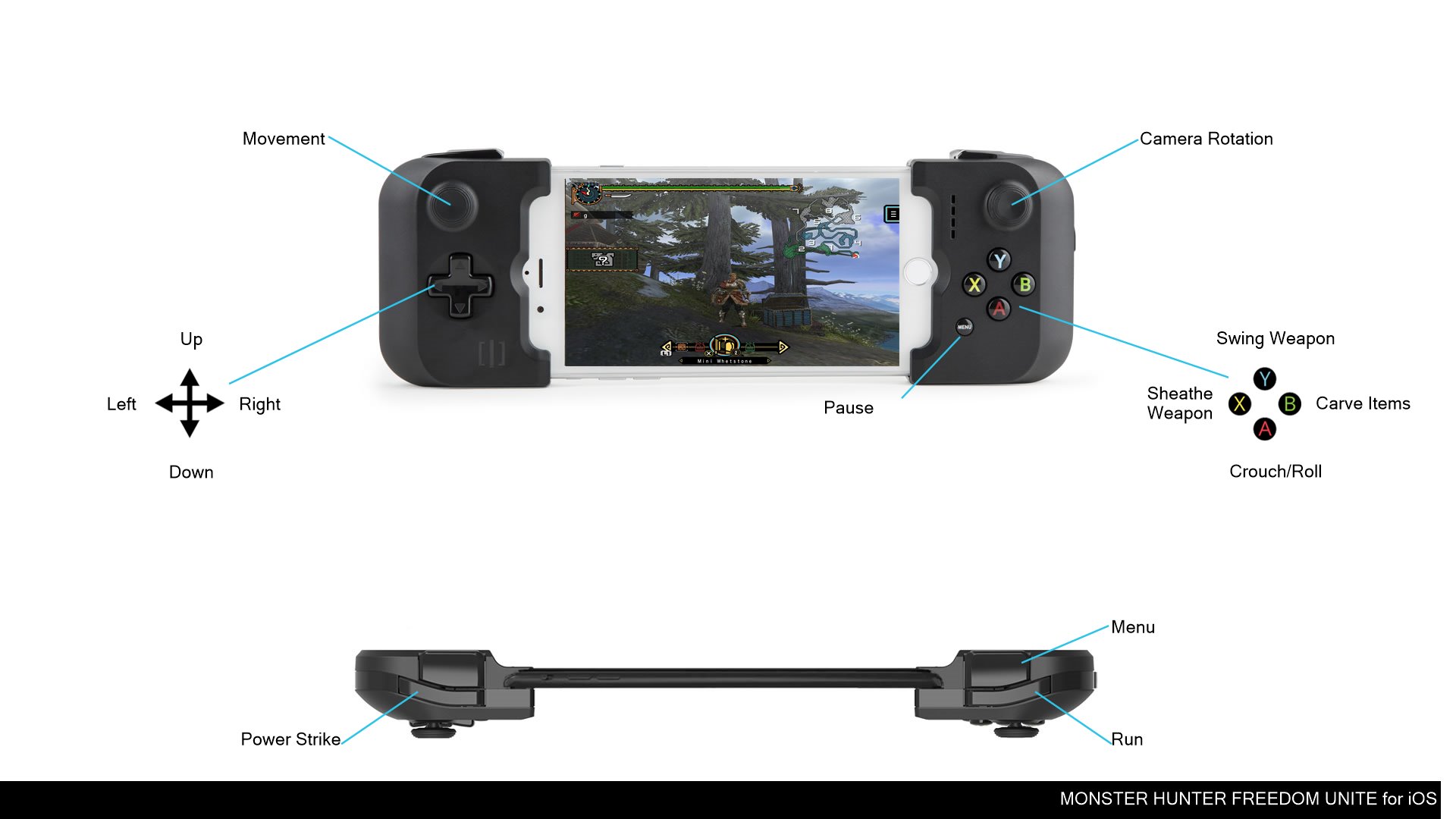 Notice:
・Before use, please check the Compatibility section below.
・This application is compatible up to iOS 10.2. Unsupported devices may not run the game properly. Please be aware of this when switching devices or updating your OS.
・Please use the latest application version for online play. If you cannot play with other players, please confirm that you are using the latest version of the application.
*No Hidden Costs*
No additional fees after download!
*For a list of compatible devices, please see the "Compatibility" section in the game's description.
The world's most exciting hunting action game, Monster Hunter Freedom Unite, is now available for iOS! Whether you're a rookie or veteran hunter, intuitive touch controls will help you tackle the biggest, baddest monsters out there. Let the hunt begin!
▼△▼△▼△▼△▼△▼△▼△▼△▼△▼△▼△▼△▼△▼△▼△▼△▼△▼△
There are so many ways to progress through Monster Hunter Freedom Unite for iOS. With a multitude of quests to complete, you can choose to tackle something new, or go back and replay a quest you've already cleared with new weapons and tactics. How you play the game is really up to you!
You'll embark on quests with numerous objectives, from gathering items to slaying monsters. If you're successful, you'll reap the spoils, which you can use to create and enhance weapons and armor. Once you've buffed up your character, you'll be ready to take on even bigger quests!
Game Features
・Simple Controls
The controls have been designed so you can intuitively perform complicated actions at the touch of a button!
・Convenient Functions
A number of functions are included to assist you while you hunt, such as the 'target camera,' which keeps monsters in your sights, and the 'pop-up icon,' which indicates things you can interact with.
・Improved Graphics
The game's graphics have been optimized for iOS devices. Just wait until you see all of the beautiful environments for you to hunt in!
・Online Play
You can go hunting with up to 4 players over Wi-Fi. When you run into a quest that's just too much for you to handle by yourself, call on your friends to join the hunt!
*Online (co-op) play is not supported over mobile data connections such as 3G.
*To get the best co-op gameplay experience, make sure you have a strong Wi-Fi connection.
*You must be signed in to Game Center to play online (co-op).
・MFi Game Controller Support
Use the MFi Game Controller to get the best hunting experience!
*The MFi Game Controller is not compatible with iPhone 4S or iPad (3rd Gen).
▼△▼△▼△▼△▼△▼△▼△▼△▼△▼△▼△▼△▼△▼△▼△▼△▼△▼△
Notice regarding compatible devices
OS: iOS 6.0 - 10.2
Devices:
・iPhone 4s, iPhone 5, iPhone 5c, iPhone 5s, iPhone 6, iPhone 6 Plus, iPhone 6s, iPhone 6s Plus, iPhone SE, iPhone 7, iPhone 7 Plus
・iPod Touch (5th gen 16GB/32GB/64GB with back camera), iPod Touch (6th gen)
・iPad (3rd gen), iPad (4th gen), iPad Air, iPad Air 2
・iPad mini, iPad mini 2, iPad mini 3, iPad mini 4
・9.7-inch iPad Pro, 12.9-inch iPad Pro
* Devices other than the ones listed above are unsupported and are not guaranteed to work properly.
* iPhone 4 / iPod Touch (4th gen) / iPad 2 or earlier, or iPod Touch (5th gen with no back camera) are unsupported.
* Please be aware that the application can be downloaded with an iPhone 4, but is unsupported.
* Deleting this game from your device will erase the game's save data.;