Genres
Controls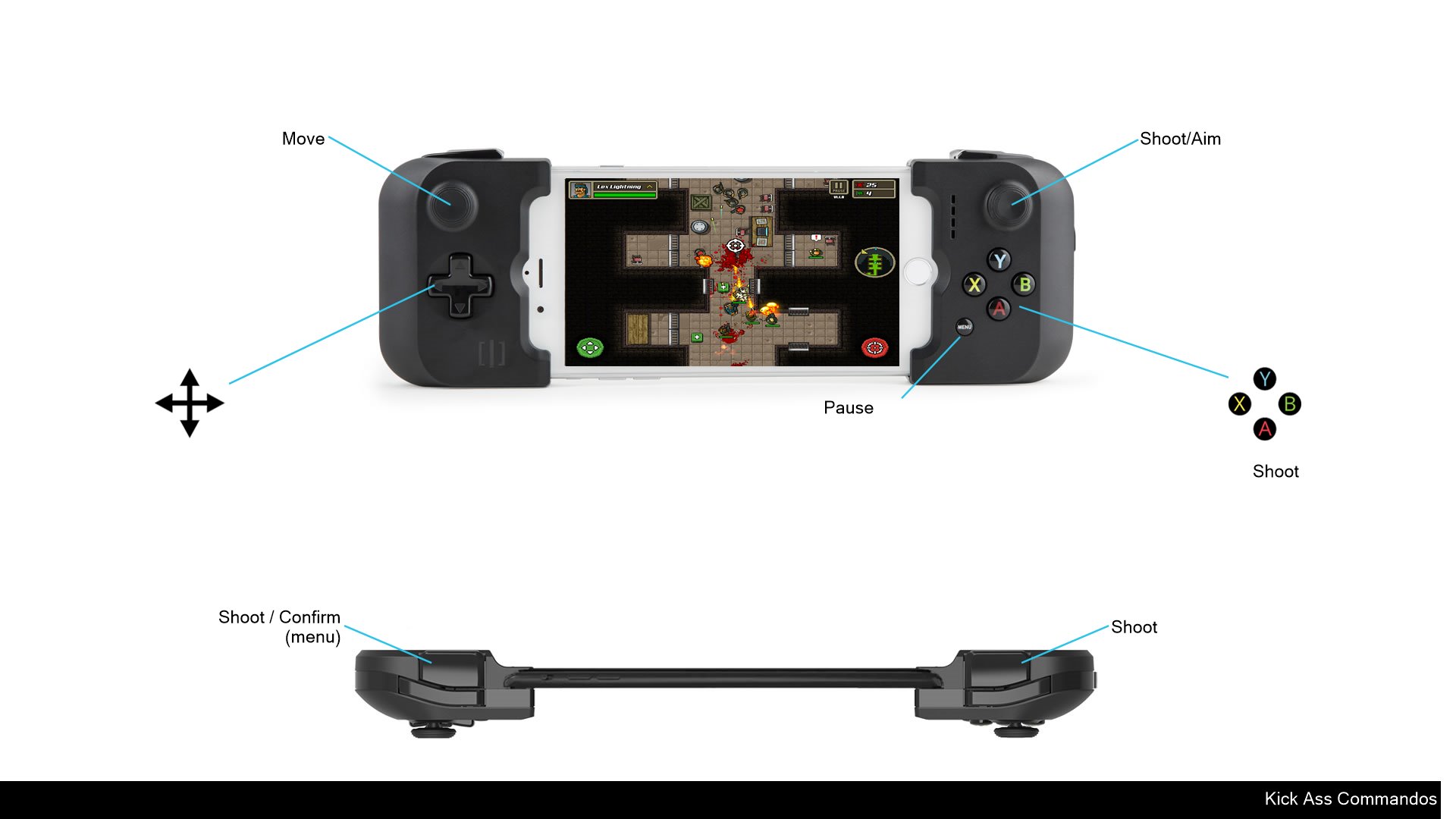 Lock and Load! It's time to Kick Ass. Grab your machine-gun, flamethrower, rocket launcher and grenades. Assault the enemy bases and free commandos to join your team while you destroy everything in sight.
The enemy has grown bold in spreading their highly-addictive Krystal Yayo across the global, which is turning everyone into mindless, zombie like hordes. If the enemy is not stopped soon and all the Krystal Yayo destroyed, the world as we know it will be no more. You have been chosen to lead the ultimate mission across the global to rescue your comrades, wipe out all of the enemy's production of Krystal Yayo, and kill everyone else you encounter!
Good luck commando!
Not ready to join the Kick Ass Commandos yet? Checkout what these frontline reporters had to say:
TOUCH ARCADE "GAME OF THE WEEK"
"Kick Ass Commandos definitely has that 'just one more go' special sauce, and with its near constant action, explosions, and gore it's a wild ride that's definitely worth taking." - TouchArcade
APP SPY "THURSDAY FIND"
"If you're looking for a sharp-edged blaster that almost begs to be picked up and played, then you're going to love everything that Kick Ass Commandos has to offer." - AppSpy
APP ADVICE - 9.1
"Kick Ass Commandos is an intense and insanely fun dual-stick shooter packed with explosions for days." - AppAdvice
APP REVIEW TODAY - 9.1
"Kick Ass Commandos is a dual-stick action shooter that makes you feel like "Rambo." If you enjoyed games like Soul Knight and The Binding of Isaac: Rebirth, then you will love what Kick Ass Commandos has to offer." - App Review Today
POCKET GAMER - 8/10
"When it comes to thick and juicy shooting, you'd be hard pressed to find anything better that's hit the App Store this year" and "You're unlikely to find a better retro arcade blaster anywhere. And that's high praise indeed." - Pocket Gamer
Still need convincing private? Checkout these kick ass features!
UNIQUE MISSION PACKS
Each mission pack has a unique theme including deadly jungles, frozen arctic tundra, and scorching desert wastelands.
UNLOCK COMMANDOS
Rescue special commandos to add them to your unit which you can use on future missions.
UPGRADE AND CUSTOMIZE COMMANDOS
Send your commandos out on missions to earn upgrade points which you can use to customize your commandos to your liking.
DESTRUCTIBLE LEVELS
Do you love explosions? Awesome, so do we! You can blow up all sorts of stuff on the missions. Want to see what a rocket launcher does to a palm tree or a grenade to tank? The power is in your hands, or should we say weapon?
TONS OF ENEMY VEHICLES TO DESTROY
Tanks, sniper towers, gunboats, snowmobiles, and attack helicopters to name a few. If you can dream it, you can destroy it!
BADASS BOSSES GALORE
The game is full of tough, badass bosses including:
* The Rocket Brothers who are big ballin' twin brothers who both wield multi-shot rocket launchers!
* Killer Yeti Warriors who will stop at nothing to eat your heart while it is still beating in your chest.
* Giant, genetically engineered Alligators - need we say more?
* Corpus Natas an evil cult leader who is on a quest for immortality by luring innocents with the addictive Krystal Yayo.;