Genres
Controls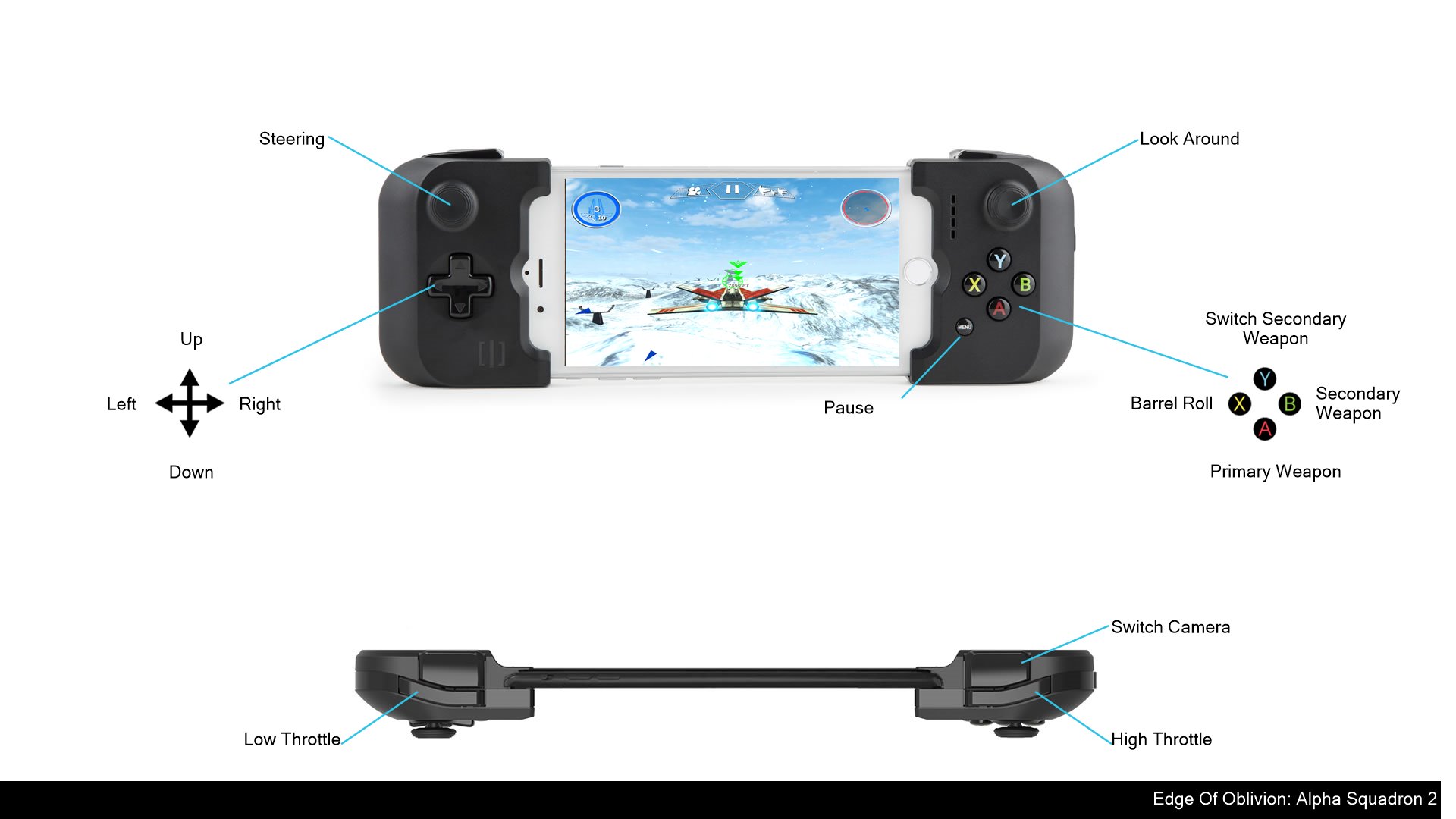 TouchArcade 4½ Stars - "Environments and sound effects are breathtaking, controls like a dream!"
148Apps 4 Stars - "The kind of mobile game you'll want to show off to others!"
Pocket Meta 4½ Stars -"Very fun, beautiful and highly immersive!"
Popular Mechanics - "Oh hell yes, this is the dog-fighting sci-fi space flight simulator we've been waiting for!"
Mac Life - "Stellar visuals, fans of space shooters - especially the Rogue Squadron series - will easily fall in love!"
In Edge Of Oblivion: Alpha Squadron 2, you get the chance to jump into the cockpit of a powerful starfighter and join the galaxy's most daring pilots as they face off against the evil Hadian Empire. You'll engage in perilous battles against hordes of enemy fighters, lumbering mechs, gigantic tanks and huge capital ships. Aerial conflict takes place in a variety of beautifully rendered environments including snow, deserts, highlands, oceans, volcanic lava fields, alien cities, amazing deep space locations and even the interior of a massive space station. Watch out for dangerous combat hazards such as space mines and asteroids as you fight your way to victory in each of the eight starfighters, bombers and assault craft at your disposal. Edge Of Oblivion features stunning visuals and sound, be prepared to immerse yourself in an intense action-arcade experience!
Astonishing 3D details include fully rendered cockpit interiors, real time lighting and special effects (explosions, smoke, engine glow, tracer fire and more). Features fast and furious space, air-to-air and air-to-ground combat that immerses you completely in the game! Each starfighter comes with many different configurations, allowing you to choose the best match for your combat style! Features retro inspired space and atmospheric battles in the tradition of the STAR WARS™: ROGUE SQUADRON 3D series of games and includes two campaigns and over 80 missions including an insane survival mode!
With an epic storyline that will keep you glued to your seat and a medal/rank system that will make you want to play again and again to score a gold, you will not want to put this one down! Includes MFI gamepad support!
NON-LINEAR OPEN WORLD FLIGHT COMBAT
• Not ON-RAILS, fly wherever you wish and take on secondary mission objectives
• Intelligent enemies that learn from your combat style and team up with each other to try and defeat you
• Many different enemy types, including fighters, bombers, interceptors, giant mechs and tanks
AMAZING BATTLE ENVIRONMENTS WITH REALISTIC WEATHER FX
• Beautifully rendered space and planetary locations including sprawling deserts, alien cities and volcanic lava fields
• Experience different times of night or day and weather effects such as volumetric clouds, rain and snow
• Several different camera modes that let you view the 3D action however you wish
BATTLE GIANT ENEMY BOSSES IN AN EPIC STORY
• Take on gigantic bosses, massive battle cruisers, enormous tanks and destroy a galactic superweapon
• A story packed with twists, betrayal, mystery and revenge
• Fully voiced characters throughout the game
DIFFERENT WAYS TO CONTROL THE ACTION AND YOUR INTELLIGENT WINGMEN
• Control schemes to fit any taste, including on-screen touchpads, tilt control & even bluetooth gamepads
• Give commands to your wingmen during battle and watch them exterminate your enemies
• Several different gameplay modes including two story campaigns, dogfight missions and survival mode!
If you love this game and want to see more please rate it!
Note: Game will not run on devices with less than 512 MB of ram. Second campaign and some craft require in-app purchase.;